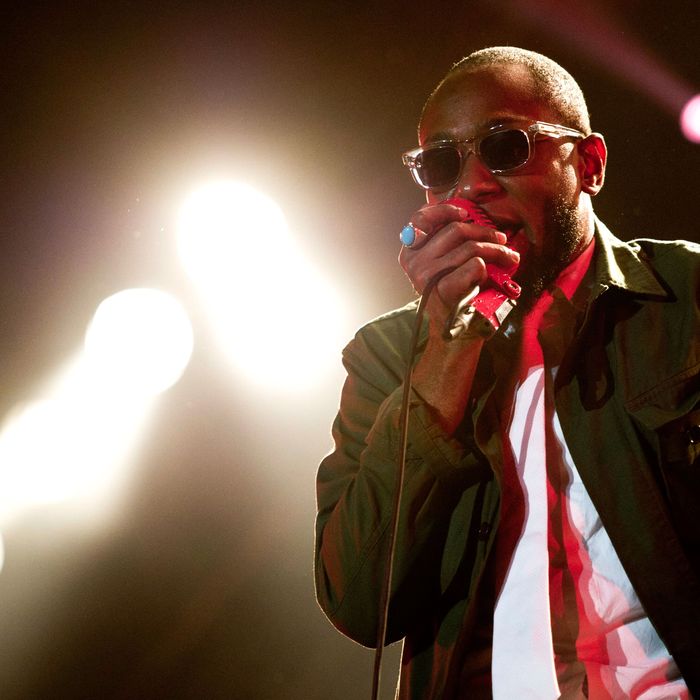 Yasiin Bey.
Photo: ENNIO LEANZA/Corbis
The day that Barclays Center opened, late last September, Yasiin Bey (the former Mos Def) was in his adopted home of New Orleans, fielding a stream of calls. "People were asking, 'Are you gonna be there, are you gonna be there?'" he recalls. Bey did not share his associates' excitement; a fifth-generation Brooklynite, he'd long felt uneasy about the stadium's arrival in its highly congested, deeply rooted neighborhood. "I'd told Marty Markowitz, 'Why not put it in Coney Island?'" Bey says. "Nope. They wanted it right there on the poppin' boulevard. But it was already poppin' there!" That night, feeling "heavy," Bey sat down to write about the arena, "with my hands, on paper," expressing his thoughts in a poem. He called it "On center.stadium.status."
Modzilla The spine winder
crooked
Face
Coliseum
Convenient future
Army base
They arrive in they best
Then it get worse
Dull scissors
Soft ribbon
Artery burst

        Clear:

    It's simpler to kill
A stranger
Than it is
To slay
A
Neighbor
DECREE!
HAIL THE NO NATION BEAST!!
whose shadow alone
buries homes
And swallows streets
Pass gas then
Pick its teeth
(ssssuuuucckkkk)
downwind
Topple the trees
Flat earth
Unavailable light
Bright screens
Zeroes on
Zeroes and zeroes
Round screams

What did Brutus tell Ceasar as he aired him out?
"Lord it's Hell in that crowd"
  Stadium

Dig a grave
& build on top
digagrave
& build
On top
Emptyempty
FILL UP!!
Dig a grave
& thrill on
Top
digagrave
& kill on
Top
On center.

STADIUM.STATUS.
stadium.
Status.
The medium was not a new one for Bey. Last year, while exploring putting out a book of his lyrics, he started working with literary agent Gloria Loomis; soon he'd have his first poem published, in The Paris Review. "It's a test to me," he says. "Can my words have impact without me reciting them to music?" But he was reluctant to release "On center. stadium.status," aware that it would be read not as a fulmination against gentrification but in the cruder terms of a rap beef: Mos Def takes shots at Jay-Z. "I didn't want it to be misconstrued as a personal attack," Bey says.
Meanwhile, the new arena did nothing to change his views. "Maybe two months ago," he recalls, "at the intersection of Dekalb and Flatbush, I saw these not-quite-so-young men, in standing traffic, trying to sell bootleg Rolling Stones T-shirts" commemorating the band's concerts at the stadium. "I thought, This is the trickle-down economic effect of having Barclays in the neighborhood?"
"Jay's narrative is so strong in America — it inspires and touches people. But it also swept real issues under the rug," Bey says. "Jay was such an emotional centerpiece for the stadium that it almost became sacrilegious to criticize it." Bey hopes to convene Jay-Z and fellow apostate Harry Belafonte for "a meeting of the minds," but for now the poem will have to speak for him. In January, he decided to make the work public. "If I can't have an opinion on it, who can?" he says. "To quote Jay: 'I'm bigging up my borough, I'm big enough to do it.'"