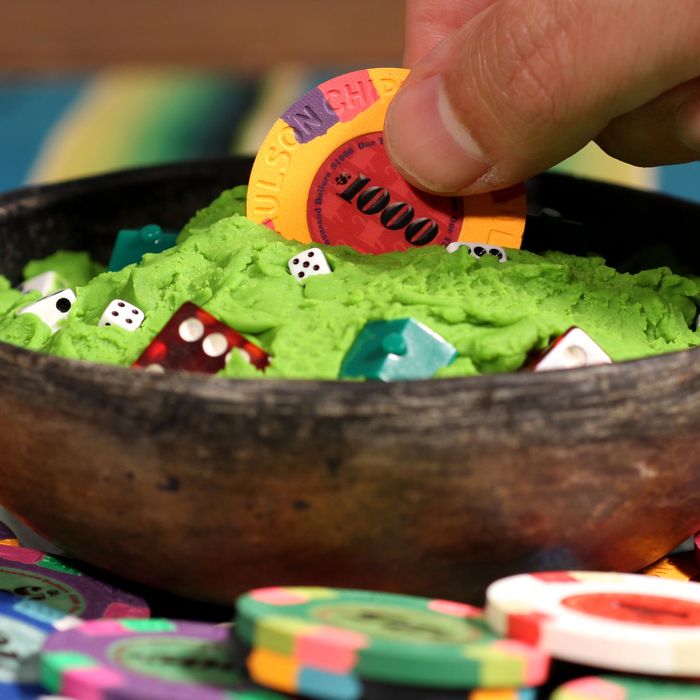 It happens every year — your Oscar ballot gets scuttled by the short subject categories. They've traditionally been the toughest ones to call, not just because the films are often obscure and, depending on where you live, hard to watch and don't get the kind of season-long buildup that the features do. But they're also tough to call because one has to contend with the Academy's desire to reward a worthy subject over good filmmaking, particularly in the documentary category. (Maybe the latter is the reason why the bleeding-heart quotient among this year's doc nominees is through the roof.) Well, don't you fret. We went and did the leg work and have ginned up a breakdown of this year's shorts, with our picks for the probable winners. (And after you've read our picks and watched the trailers below, head on over to Vulture's interactive Oscar ballot.)
Best Animated Short
Adam and Dog
What it's about: Like the title says. The first dog meets the first man. Awwwww.
Reasons it may win: It looks great, and it won the Annie for Best Animated Short Subject last year, which is kind of a big deal. (This year's winner, Paperman, is also nominated, which seems kind of unfair, but, well, there you go.) Also: puppies!
Reasons it may not win: The story's kind of basic, and fans of traditional 2-D animation will likely rally to the aforementioned Paperman, which is more nostalgic, narratively efficient, and popular.
Fresh Guacamole
What it's about: A grenade filled with tasty avocado, some dice, poker chips, and a variety of other game pieces come together to make an odd, surreal bowl of guacamole.
Reasons it may win: It's concise (clocking in at under two minutes), cute, and appears to have just enough symbolic value to make an impression; the similarly offbeat, though decidedly more blunt, Logorama won back in 2010.
Reasons it may not win: It's probably too concise, and possibly too minor.
Head Over Heels
What it's about: An elderly married couple has grown apart and the two live upside down from one another, literally: Her ceiling is his floor, and vice versa. But things are about to change.
Reasons it may win: The Academy tends to love these witty concepts, at least in this category, and the film does a nice job of building resonance: It's a touching evocation of two people who have grown apart from one another both emotionally and physically.
Reasons it may not win: The story subtly takes on weird, almost sci-fi overtones that endanger its conceptual clarity and narrative shorthand. Also, why is it the woman is the one who's always upside down?
Maggie Simpson in "The Longest Daycare"
What it's about: A Simpsons one-off in which Maggie Simpson is left at the Ayn Rand Center for Tots and has to face off against her classic nemesis, the Unibrow.
Reasons it may win: C'mon, it's a chance to give The Simpsons an Oscar. A nice (and somewhat completely arbitrary) dig at libertarianism lends it just enough lefty political cred. Plus, it's been playing theatrically in front of the much-nominated Life of Pi.
Reasons it may not win: Some Oscar voters probably knew Ayn Rand personally. Also, let's face it — this isn't exactly prime Simpsons material.
Paperman
What it's about: Using a stack of paper airplanes, a man tries to get the attention of a woman with whom he almost had a meet-cute earlier on a train platform.
Reasons it may win: The juggernaut known as Disney. Also, the film's blending of traditional animation with CGI offers an opportunity to celebrate both forms. (Disney's 2-D animation efforts almost died a few years ago.) Also, people really, really like it.
Reasons it may not win: Disney has plenty of Oscars already. Voters may feel compelled to reward something lesser-known, figuring this one has had enough exposure already.
Our choice for Best Animated Short winner: Paperman. It's widely beloved. It's unobjectionably old-fashioned. The animation is beautiful. And it's got the marketing power of the world's biggest media conglomerate behind it. This seems like a lock.
Best Live-Action Short
Asad
What it's about: A young Somali boy has a choice: He can either become a pirate, or he can choose the life of an honest fisherman.
Reasons it may win: The cast is made up of Somali refugees. The fablelike tale boasts lovely location work and a touching story line.
Reasons it may not win: Believe it or not, the live-action short category is one where the more socially and/or politically relevant films tend not to win.
Buzkashi Boys
What it's about: Two young Afghan boys — one a dreamer, the other a budding blacksmith — engage their fascination with the world of buzkashi, a traditional Central Asian sport that's like polo played with a dead goat.
Reasons it may win: Gorgeous photography and elaborate production values, crossed with political relevance. It's the longest of the five nominees, which means it tells a story that's a bit more involved.
Reasons it may not win: We promised we wouldn't let our own critical opinions get in the way of our predictions, but we can't help it: The film's awkwardly manipulative story line — not to mention a syrupy, overzealous score — may be too much even for Oscar voters. It may split votes with Asad.
Curfew
What it's about: A suicidal young man is enlisted by his estranged sister to watch his niece for a day. Though totally mismatched at first, slowly, the precocious tot and the depressive outcast come to an understanding.
Reasons it may win: It's already won a butt-load of other awards, and it's the only English-language film in a group of nominees vying for political relevance. Despite dark overtones, its stylistic flights of fancy, which include a musical number, may bring levity to the troubled hearts of voters who've already had to sit through the other live-action nominees and/or the short documentaries.
Reasons it may not win: Voters might feel guilty about not casting a ballot for something supposedly more socially relevant. And, without putting too fine a point on it, let's just say this story is not exactly unpredictable.
Death of a Shadow
What it's about: A dead soldier gets a second chance to reclaim a lost love by a creepy eccentric who collects photographs of other people's shadows, in this highly stylized, bizarre thriller-cum-war-movie-cum-romance.
Reasons it may win: Offbeat subject matter, along with stylized, Jean Pierre Jeunet–esque direction, set this one apart from the other nominees. Also, this is a category where some star power often goes a long way, and lead Matthias Schoenaerts also turned heads in Rust and Bone this year.
Reasons it may not win: Might be too weird and elliptical for Academy voters to embrace.
Henry
What it's about: A brilliant aging musician searches in vain for his lost love, while reminiscing about their past together.
Reasons it may win: It's all about old age, and it's got a bit of a twist at the end, which this category often rewards. Plus, it'll probably remind some voters of multiple-nominee Amour, which they obviously like a lot.
Reasons it may not win: Voters already casting ballots for (the superior) Amour may want to go for something that's not about elderly musicians speaking French.
Our choice for Best Live-Action Short winner: We're going to go with the somewhat more accessible Curfew over the somewhat more sentimental Henry.
Best Documentary Short Subject
Inocente
What it's about: Through her vibrant, colorful paintings and designs, a teenaged, homeless, undocumented Mexican-American artist attempts to overcome her troubled past, with the help of some inspirational social workers and teachers.
Reasons it may win: Which part of "teenaged, homeless, undocumented Mexican-American artist" did you not understand? Also, the film's use of Inocente's striking artwork helps set it apart visually among this year's grim nominees.
Reasons it may not win: There's a lot of bleeding heart to go around in this year's short doc category, and they may wind up canceling each other out.
King's Point
What it's about: A group of seniors, all of whom left New York during a time of relentless crime and urban blight, look for company, connections, and love in the titular Florida retirement community where they've lived now for decades.
Reasons it may win: It's got some humor in a dark category, which helps. The theme of old age has become a running theme in this year's Oscars (Amour, live-action short contender Henry).
Reasons it may not win: Not exactly unfamiliar material for this category, and the other contenders might just prove to be too emotionally overwhelming or socially relevant.
Mondays at Racine
What it's about: Two Long Island hairdresser sisters open up their salon to women who've lost their hair as a result of chemotherapy.
Reasons it may win: Touching, brutal stuff. The film's very frank portrayal of the effects of cancer on these women and their families will not fail to hit a nerve.
Reasons it may not win: There's a lot of emotional devastation to go around this year. How do you decide between women with cancer or African children with heart disease? Also, co-director Cynthia Wade has won before.
Open Heart
What it's about: Rwandan children with heart disease journey to Sudan, which has the only hospital where they can get the life-saving operations they need.
Reasons it may win: Just read that description. Suffering children. Devastating illness. War-torn countries. Heroic doctors. Plus, it boasts some big names, like Damon Lindelof, among its producers.
Reasons it may not win: As with the other films in this category this year, it will probably come down to which movie depressed and inspired voters the most.
Redemption
What it's about: A journey through the lives of the diverse range of people who collect cans and bottles for redemption (get it?) on the streets of New York.
Reasons it may win: It's very well made, plus it's got a little bit of everything: Issues of race, ethnicity, gender, religion, alcoholism, and even romance come up over the course of the film.
Reasons it may not win: It's up against cancer and heart disease, to be perfectly blunt about it.
Our choice for Best Documentary Short Subject winner: We think this will come down to Mondays at Racine versus Open Heart, each of which packs a significant emotional wallop. Forced to choose, we'll go for Mondays at Racine, whose portrait of wives and mothers coping with cancer will probably resonate with the Academy audience.