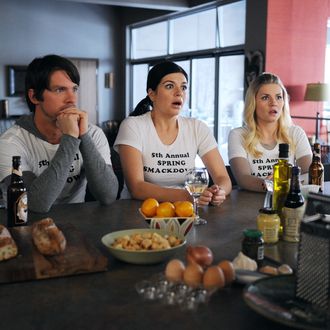 HAPPY ENDINGS - "The Butterfly Effect Effect" - Some people wait for the groundhog to signal the end of winter. Instead, the friends wait for Brad and Jane's annual "spring smackdown," their yearly blowout of a domestic squabble, to let them know when Max will come out of hibernation and when winter will end, on "Happy Endings," WEDNESDAY, FEBRUARY 22 (9:31-10:00 p.m., ET) on the ABC Television Network. (ABC/MITCH HADDAD)ZACHARY KNIGHTON, CASEY WILSON, ELISHA CUTHBERT
Photo: Mitch Haddad/? 2012 American Broadcasting Companies, Inc. All rights reserved.
Staking out its third different slot this season, Happy Endings will start airing back-to-back episodes on Fridays at 8 p.m. beginning March 29. Yikes. The sitcom will get bumped from its Tuesday night space for a new season of Celebrity Wife Swap, ABC announced on Wednesday. All together now: Double yikes. Not quite as bad as the verdict that Don't Trust the B—- in Apartment 23 is essentially doomed, but the switch has a very "this is the end" vibe.