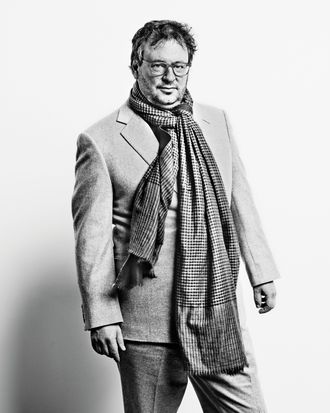 Photo: Christopher Anderson/Magnum Photos/New York Magazine
Iwan Wirth is standing at the top of the stairs in the former Roxy dance club and roller rink, which he recently had renovated into the largest of the outposts of his global art enterprise, Hauser & Wirth. It is the week of the opening of the big-box gallery's first show, a survey of the rather intimidating work of Dieter Roth and his son Björn Roth, and he's introducing his artists to each other: Zany British conceptualist Martin Creed, styled a bit like Willy Wonka (and who enlivened the entry stairway with strips of colored tape), meet world-weary Indian Subodh Gupta, draped in a scarf and looking desperate for a tea. Thirty-three of Wirth's artists made the pilgrimage altogether, and many are still jet-lagged after being called from all over the world. "Everybody knows me, but not everybody knows each other," he says with Swiss bonhomie. "It's like a class reunion, only they've never met before."
The grand opening of this converted disco is the biggest thing to hit West Chelsea since Hurricane Sandy. Fortunately, the exhibition space is up a flight. What was once a sweaty, shirtless dance floor is now, thanks to architect Annabelle Selldorf, a vast, tidy exhibition hall, the largest column-free space in Chelsea. Later this month, the dealer David Zwirner, Wirth's former partner in New York, whose own gallery already takes up most of 19th Street, is opening a five-story expansion on 20th Street, which Selldorf also designed. As the art gets supersized along with the profits, these new galleries look and feel like museums. Gagosian was a pioneer of this model, but, as one curator who has worked with both attests, "Iwan's no Gagosian. He's so warm," and "unusually focused on art which is difficult to understand."
And on naughtiness: Ten years ago, when Hauser & Wirth opened a gallery in a former bank in London, Paul McCarthy created a bawdy, messy food-fight video work featuring people wearing oversize heads portraying Osama bin Laden, President George W. Bush, and the Queen Mother. "These spaces are about education, of course," says Wirth, a burgherish but still boyish 42.
Wirth's journey began in 1990 outside Zurich, when he was a teenage entrepreneur looking for seed money to help buy a Picasso and a Chagall to then resell. He persuaded a department-store owner, Ursula Hauser, to invest, and after they started Hauser & Wirth together, he married her daughter Manuela. At first, the gallery worked in the "secondary market," matching old works with new owners, before beginning to represent contemporary artists — which wasn't easy, since, as Wirth has admitted, "No artist really needs to show in Switzerland." They overcame their place on "the periphery" of the art world — though very much at an epicenter of European money — by punctilious customer service. (Wirth once cited good bookkeeping as a major reason for his success.) And by having good taste in what they bought for themselves: "They were my best collectors," says Rita Ackermann, an abstract painter born in Hungary who now lives in New York and joined last summer. "A dealer must collect the art themselves." The gallery brags that it's never lost an artist.
In Zurich, Hauser & Wirth is part of a hybrid commercial and noncommercial arts complex in a former brewery; outside London, it is building a local cultural center with an artists-in-residence program. But in New York, the gallery that represents ­museum-approved artists like Pipilotti Rist, Roni Horn, Louise Bourgeois, and Dan ­Graham was tucked away from the ­contemporary-art spotlight in a townhouse on the Upper East Side, shared with Zwirner until 2009. (The Zwirner & Wirth partnership ended around the time Wirth started looking for spaces downtown; Zwirner has cited a need to avoid "brand confusion.") The gallery's arrival in Chelsea — in this New York dream palace, a Ziegfeld for art — is a sign that art globalism goes both ways. It's not just Gagosian in Hong Kong, it's also foreigners planting their flags in the New York market.
With, of course, their own values. "I think with Iwan it's not a commercial venture. It's very much about the artists and what they need and what they want," says Paul McCarthy, who is seated with his wife in a bar designed by Oddur Roth, Dieter's grandson, a cozy tangle of industrial junk. "For me, the pieces have gotten bigger, almost to the point where I can't show them. They'd have no place to go; who would own them? Instead of saying 'Scale down, this is better for your art' — which means better for sales — Iwan just follows." Which sounds awfully indulgent, but when I ask Wirth about it, he says, "It's not carte blanche — well, of course, it is carte blanche, but in a very controlled way."
"You can be a great artist but still make really horrible decisions," says Ackermann, who felt that, when she met Marc Payot, the also-Swiss head of Hauser & Wirth in New York, "it was the first time in my life when I had spoken honestly and completely with a dealer." Payot tells her, she says, "This is a better one, that is a worse one, that is a piece of shit."
Traditionally, Wirth explains, the secondary market has paid for the fun part: the creating of new art. Now, as more young artists are successful in their own right, he's taken to looking for "who is overlooked," he says, pointing around to the Roth exhibition as an example. "This is why we do historic shows — we're creating a context," he says. Actually selling art is another matter — the transactions increasingly take place at art fairs. "The problem you have with galleries is that there is no trigger point," he says. "People just come and come again and then come again."
*This article originally appeared in the February 11, 2013 issue of New York Magazine.