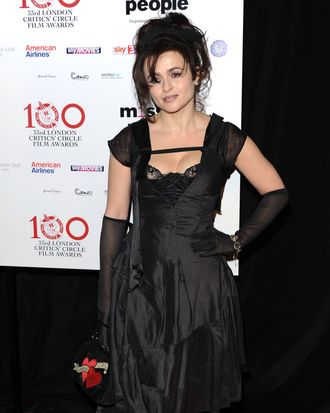 Helena Bonham Carter attends the London Critics' Circle Film Awards at The Mayfair Hotel on January 20, 2013 in London, England.
Photo: Stuart Wilson/Getty Images
Helena Bonham Carter is taking the unusual step of following in Lindsay Lohan's footsteps. She's signed on to play Elizabeth Taylor in an upcoming BBC Four movie Burton and Taylor, with Dominic West playing Richard Burton. The movie centers on the pair's 1983 revival of Noel Coward's Private Lives, which ran just 63 performances. At the time, Burton and Taylor were not together, but they were playing a divorced couple who eventually reconcile — so, you know, layers. (Here's New York's cover story about the production. Holy moly.) HBC might not have been our first guess for the next actress to play Elizabeth Taylor, but boy oh boy are we ever looking forward to this glorious treat machine.