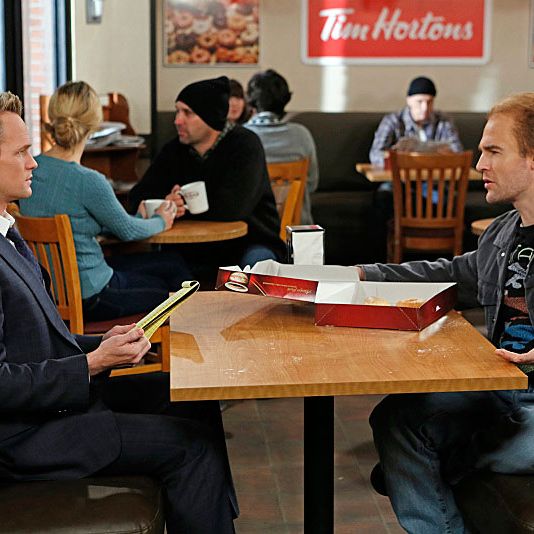 CBS couldn't have picked a better time to officially announce the renewal of How I Met Your Mother for a ninth and final season. Whereas the decision might have been met with some groans from fans who just want to see a beloved series end on a satisfying conclusion once and for all, now there's reason to believe the show can carry on for a little while longer, because last night's episode was the best in a season that hasn't been nearly as disappointing as we expected it to be. That's not to say the creators have another 30-plus great episodes in them, but they're trying, and while the better half-hours tend to be formulaic, at least that formula works. Some combination of callbacks, cameos, and a clever unifying argument can make these late-inning stretches feel less … stretchy.
"P.S. I Love You" had everything — plus an Elliott who wasn't Chris. Former SNL star Abby guested as Jeannette, Ted's new love interest, who seemed to be doing a variation on her Drew Barrymore impression and playing the ditzy but charming would-be stalker that locks eyes with Ted on the subway, where they're both reading One Hundred Years of Solitude. Ted's fascination with her alarms Marshall and Lily, but Ted makes a sound case for the fine line between love and insanity, a.k.a. the Dobler/Dahmer Theory. Grand gestures are only creepy when feelings aren't mutual; Lloyd Dobler holding a stereo above his head and playing Peter Gabriel's "In Your Eyes" beneath Diane Court's window is charming because she likes him, too. Otherwise, it would be the textbook definition of alarming. Marshall argues that true love can't result from drastic measures, citing as evidence his fated meeting with Lily freshman year at Wesleyan, when she dropped by their dorm room to ask for help setting up her stereo (little did he know she'd orchestrated the whole thing). Ted chooses to believe that Jeannette's tracking him down at school and then pulling the fire alarm in order to meet him (or as it turns out, setting a small fire in order to set the fire alarm off in order to meet him) is touching rather than scary.
This subplot gives rise to an even stronger story line when Robin jumps in to defend stalkers. Much like in the very first Robin Sparkles episode from season two, Robin is reluctant to share here beyond admitting that she was once slapped with a restraining order, and this time it's Barney who can't handle the mystery. He goes to Canada to grill Robin's exes: Gordy, Terk, and best of all, Simon (a returning James Van Der Beek who, as we know, held unusual sway over Robin well past their "Sandcastles in the Sand" days). Simon clues Barney in to an episode of Underneath the Tunes, MuchMusic's answer to VH1' s Behind the Music, which chronicles the whole Robin Sparkles story "from A to Zed."
How could the writers possibly do another Sparkles episode after this? It was the perfect coda to the story of Robin's teeny-bop alter ego, and while a send-up of her descent into grunge-era disillusionment would have been hard to screw up no matter what, creators Bays and Thomas really outdid themselves. We have to forgo the usual "what we liked" format, because we liked everything about the fourth installment of the Robin Sparkles saga, which was much better than the last one, featuring Nicole Scherzinger as Robin's former BFF Jessica Glitter. It starts with the elated reaction of Ted, Lily, and Marshall, who does a few random, celebratory leg kicks when Barney returns with the tape. Canadian luminaries/talking heads Geddy Lee, Paul Shaffer, k.d. lang, Alex Trebek, and Jason Priestley speak with appropriate seriousness about how sad it was to see Robin Sparkles throw her life away during the halftime show at the 1996 Grey Cup. An on-air interview with Robin ends when she removes the mike and storms off the set, politely saying "I'm sorry" and "Excuse me" as she departs. (Shaffer will later walk off with similar temerity, which was an excellent nod to Canada's un-American ways.)
Sparkles's breaking point led to the birth of Robin Daggers and a record that was "too dark" to be released, according to her producer Chuck "Chuck" Gerussi (Strange Brew's Dave Thomas in what may be the best get in an episode full of good gets). Oh no, wait, we spoke too soon: There's a better get. The video for "P.S. I Love You" manages to be a parody of Pearl Jam's "Jeremy," Hole's "Miss World," and Alanis Morissette's "You Oughta Know" — was our youth really this cliché? — and Underneath the Tunes explains there was a lot of speculation as to whom the song was about. William Shatner, Joshua Jackson, Gordon Lightfoot, and Neil Young are among the suspects, but Dave Coulier swears it wasn't him (for those who don't know, Coulier is the man who made a mess of Morissette to the extent that she wanted him to feel it every time she scratched her nails down someone else's back).
The moments leading up to Daggers's debut at the Grey Cup are retold for maximum melodrama, with Shaffer saying his stomach was churning and Priestley adding that all he could hear was Shaffer's stomach churning. Theirs was a funny little exchange of insults, and from there, Bays and Thomas had a ball with the in-jokes. When Coulier trots out one of his Full House catchphrases, Future Ted (voiced by his former co-star Bob Saget) offhandedly says, "I always liked that joke." When Trebek says that Robin's 1996 performance was "now known in history as the day grunge was born," Marshall says they have to forgive him for not being a music guy. But when Geddy Lee echoes the sentiment, Marshall responds, "Well, that's a bummer." (Segel is a huge Rush fan; the band plays a pretty big role in I Love You, Man.)
It turns out the object of Robin's affection was Shaffer after all, and that even the Doblers can be Dahmers sometimes, though as we write those words, we realize HIMYM is making light of pretty gruesome history for the sake of alliteration. But let's overlook it, because this was probably the best episode of the season.