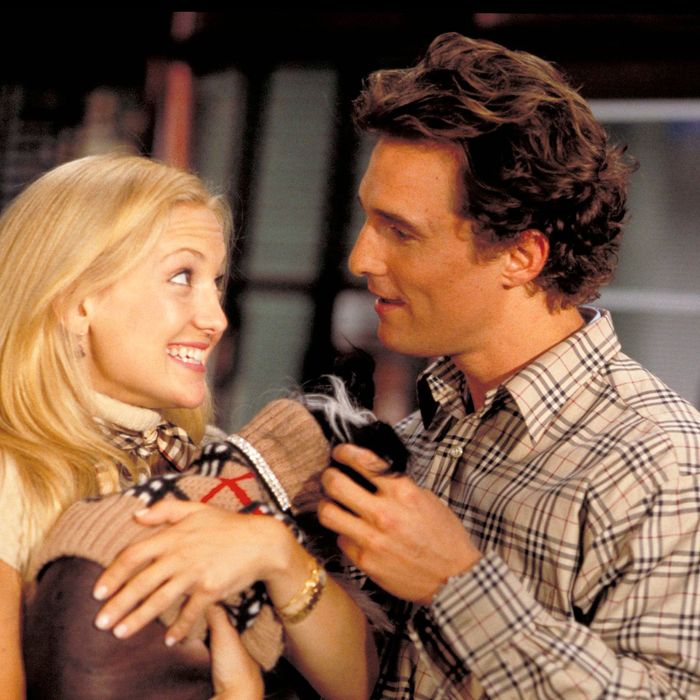 Photo: Paramount Pictures
"Frost yourself." On the list of dated How to Lose a Guy in 10 Days references, that advertising slogan — used to sell diamonds, not cupcakes, and designed as a poster, not a hashtag — would have to feature prominently. How to Lose is ten years old this month, and it shows its age in all sorts of ways: The heroine works for a women's magazine that is "growing"; Matthew McConaughey is wearing shirts; Knicks tickets are valued objects. But the biggest old-school sign might be that How to Lose is a Kate Hudson rom-com that earned $105 million domestically. Even more telling: It's actually good.
As Vulture has written and bemoaned, the romantic comedy is on death's door; studios won't fund the movies, and audiences won't go see them. Actresses like Hudson and Reese Witherspoon, who made their careers in the genre, are now languishing in fare like Little Bit of Heaven and This Means War (the worst movie of 2012, according to Vulture's Critics Poll). Anyone who wants to make a rom-com has to hide it within a sports movie or an indie art film or even a cancer flick. Date Night now involves aliens.
How to Lose a Guy in 10 Days is a relic of a happier time, when Hollywood still believed in female audiences and Kate Hudson hadn't done that horrible movie about ass cancer. (Spoiler: Little Bit of Heaven ends with Kate Hudson ghost-dancing at her own New Orleans jazz funeral while Whoopi Goldberg–as-God looks on. I will never get those two hours back.) Hudson is at her peak in How to Lose: bubbly, confident, a screwball comedy natural. The plot — Hudson's magazine writer attempts to scare off a guy in the name of journalism, but ends up falling for him; he turns out to be wooing her for a work bet, but loves her too! — is unapologetic about its rom-com-ness. Whatever you might have thought of Fool's Gold, Hudson and McConaughey have real chemistry in their first pairing, and the movie hits all the right genre notes: a glamorous job! Fancy cocktails and apartments! A romantic climax backdropped by a major New York City landmark! That yellow dress! It's not Best Picture material, fine, but it's well-made movie candy and a reminder that all rom-coms don't have to be holiday-centric Love Actually rip-offs.
If only Kate Hudson had appreciated its relative quality. She is partly to blame, at least for the drop-off in her own career; she rode the rom-com train as long as she could, and to a lot of regrettable places (Raising Helen and Bride Wars come to mind). But if How to Lose actually got made today, it would either contain a Melissa McCarthy archery B plot or, worse yet, die unnoticed at the box office. The dedicated among us might remember to save it in a Netflix queue. So here is a resolution, How to Lose enthusiasts: In honor of its memory, and the Golden Age of Falling in Love in 90 Minutes or Less, go buy a ticket to the next big rom-com. It might not be great, but it's a future investment, telling studios the genre is not dead. Then you can go home and watch How to Lose on cable.