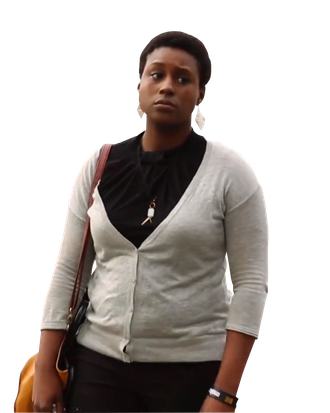 As the folks behind Django Unchained and Girls can tell you, addressing issues of race can be a dicey affair. That's what makes the accomplishments of actress-writer Issa Rae — who effortlessly navigates the intricacies of color on almost a weekly basis — all the more remarkable. In the two seasons it's run, her YouTube workplace-comedy series, The Mis-Adventures of Awkward Black Girl, has won admiration from CNN, Katie Couric, and the New York Times alike, the latter of which branded her work "sharp, pointillist humor that's extremely refreshing." To mark tonight's season-two finale (watch it here), Vulture spoke with Rae about the secrets to deft racial satire, her big-screen goals, and the status of her Shonda Rhimes show, I Hate LA Dudes.
Why did you decide to put your Awkward Black Girl character, J, in an interracial relationship with White Jay?
It's really kind of superficial. The first season, we were growing in popularity, but my producer at the time was saying in order to reach a bigger audience, and to reach white people specifically, you have to put a white person in the show. I was like, "Oh my God, that makes so much sense." So we chose this character Jay. He was only supposed to be a one-off character. But once we premiered his episode, the audience went crazy in the [YouTube] comments section. I don't want to bang anyone over the head with the same interracial tropes you've seen in the past. It just seemed like a fun story line. His name was initially "Jay," and the commenters named him White Jay. So we stuck with that.
What do you think of HBO's Girls? Hannah attempted interracial dating this season …
I'm definitely fascinated and amused by the series. I've seen every episode. I do love [Lena Dunham's] voice. I do agree with the fact that there could be more diversity, but I think that's the fault of the network, HBO, rather than Lena's. Sometimes I can relate. Sometimes I can't and am just looking at them like animals in a zoo. Either way, I'm watching.
How did you meet Pharrell Williams, who airs Awkward Black Girl on his YouTube Channel, I Am Other?
He called me during the first season. We were probably on our eighth episode at the time, and we'd just finished Kickstarter [to raise money to film the series]. He said, "I don't want to change anything." Well, first of all, he declared that he was like an awkward black guy. "People don't get it. I tried to develop a show a while back, and nobody believed that we exist. When I saw your show I was like, 'This is my vision.'" I was just screaming on mute on the other end of the phone.
He lives a pretty baller lifestyle for a nerd.
He really is a nerd — an intellectual nerd. Star Trek is, like, a really big thing for him. He's a really big history nerd. He is constantly on YouTube looking up different theories. I could talk to him about any obscure reference. He just happens to be good-looking. It happened over time, I guess.
You've done the awkward-comedy thing great justice. Who are your comedic inspirations? Folks have even compared you to Larry David.
Larry David, of course. But Ellen! She's so good at pointing out subtle awkward moments. Her Here and Now special still cracks me up. I just watched it again a few months ago. She is the queen of that.
You've also expressed great admiration for Tina Fey. Have you ever met her?
I haven't. I would love to. Do you have a hookup?
Unfortunately, I do not. Since you've garnered a good following now, have any actors expressed interest in guest-starring on the series?
Oh yeah. We just suck in terms of organization while shooting the series. I wish we'd been better. We've had different people want to guest-star: Gabrielle Union is down for the cause, Niecy Nash, Michelle Williams, Kelly Rowland — people like that. We just couldn't make it work with the schedule.
And now you're working on an excellently titled new series, I Hate LA Dudes, produced by Shonda Rimes. Where does that stand?
We finished a script — they helped me develop it. And now it's a waiting game, trying to pitch that to cable now. We're working on cable.
Where did the title come from?
I really do hate them. I hate the guys. I hate the mentality they have. Everyone's so chillaxed, the way they speak and carry themselves. They're very much laid-back in the sense that they feel like they don't have to pursue you. Especially this generation, they don't really court women anymore.
So this is a show about dating?
In a way, but it's still kind of with a different twist. I can't really speak on that subject, completely.
Will you star?
It's too soon to say, I have no idea. Would I star in it … um, I didn't write it for me. But I wouldn't mind. It's hard to say.
Does this mean no more Awkward Black Girl?
We're trying to figure out what's going to happen with season three, if at all. But we're definitely working on a movie. That is my goal for ABG, the next step.
Now that you're moving up in the industry, what would you do with a bigger budget?
I'm a fan first of television and film. I think I would produce a bunch of other up-and-coming voices. And showcase it.
Have you treated yourself to anything?
Not yet, but I will. Maybe next year. I don't think I deserve it just yet.