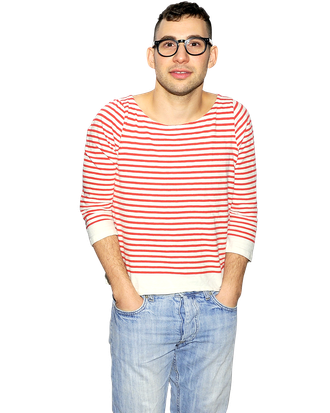 Jack Antonoff.
Photo: Getty Images
Though 2012 will go down as a banner year for fun., the power-pop group technically dropped "We Are Young" the previous year. It wasn't until after Chevrolet synced the track in their Super Bowl ad last February that the lung-busting anthem (produced by Beyoncé and Drake collaborator Jeff Bhasker) became ubiquitous. Just a few months later, the sing-along single had sold more than 3 million copies. Now the New York City–based band is preparing to perform at the Grammys, where they're also nominated for six awards: three for that song, one for Best New Artist, and two for their best-selling album, Some Nights. Vulture spoke with guitarist Jack Antonoff to discuss a lot about fun.'s rapid ascent and a little about giving music to his girlfriend Lena Dunham's show. 

Are you and your bandmates ready to perform at the Grammys?
Emotionally or physically? I think what we've tried to do is stay in both worlds: stay in tune with the magnitude of the Grammys and then keep things in perspective no matter where we are in the world. To do everything justice.
I have sort of a girl question for you: What are you wearing to the Grammys?
That's a boy question too! We all want to look good. I like clothes, looking nice. Got a couple of suits. It's time to clean up.
If you won all of the six Grammys you're up for, where would you put them?
I don't know. I'd probably give them my mother. My parents could put it in their beach house or whatever. I don't know what to do with things like that. Like gold records — I don't really understand where you're supposed to put them. You sorta seem like a dick anywhere you put them.
You went with your girlfriend, Lena Dunham, to the Golden Globes this year. Did you get starstruck at all?
Not really. Songwriters and musicians used to shake me when I was 14 years old. If I saw, like, Billy Corgan of the Smashing Pumpkins, I wouldn't know what to do with myself. I was that person who cut pictures out of a magazine and put them all over my wall. I learned to play all their songs.
Where's the weirdest place you've heard "We Are Young" played?
In Switzerland, we were doing some press and went to this tiny café across the street. We were basically ignored and then the song came on the radio. Hearing it in that context really gave perspective of how global it had become. We didn't say it's our song. But we were really excited.
You put your other band, Steel Train, to bed this year. How emotional was that last show for you? You'd been together for about a decade.
Well, we hadn't played in a year and a half. You have to put things to bed at the right moment — and it was the right moment. A year ago, I'd never think I'd be here right now. So it's more like [I had] this idea that the future is so wide open.
Starting in bands so young — have you ever held down a job?
I had jobs here and there, but I got my first record deal when I was in high school. Which was lucky because I was never going to do well in college. People think I came out of nowhere, but it's been, like, a twelve-year journey.
One of your unreleased songs, "Sight of the Sun," appears on the Girls season two soundtrack. Did that come about as a favor to your girlfriend?
No, that's been in the works for a very long time. We had songs that were going to be on Some Nights but never really worked out. And we decided [the soundtrack] would be a great place to put it. We had, like, one day off in Rome — the only day we could record it — so we went to the studio with a bunch of Italian engineers who didn't speak any English and recorded the songs. It was a truly fascinating process. It was also cool, because it was the first thing we'd done since Some Nights to get back and record again. We sort of reminded ourselves of the other side of what we do.
Is there a new album on the way?
Yes and no. We're really focused on touring and keeping our heads in these songs right now. It's better we perform them by doing the most service to our audience. But we're tinkering around. We did things quickly before. Some Nights was written and recorded in a two-month period. We're not really going to make the next album until that form of inspiration hits us. And then we'll just go and do it — and that's that.