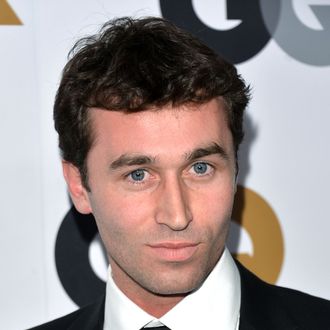 Photo: Alberto E. Rodriguez/Getty Images
As he himself notes in the introduction to his Daily Beast essay, James Deen has been "interviewed to death" about The Canyons, but "this is the first time I have been asked to write a first-person piece about the experience." He goes on to charmingly apologize for the quality of his writing (it was totally fine, James!) and explain just how he felt about the bonkers experience that was The Canyons. Turns out Paul Schrader was not so kind to him.
On his director, Paul Schrader:
"Love him or hate him, Paul is a genius. Through the whole the film, there was not one moment where I felt he respected me as a person. I did, however, feel as if he respected my acting abilities. He was my director, and I will follow him to the ends of the earth. I hope my performance was of the caliber he desired and that I did not let my director down."

On being a porn actor in a regular movie:
"Not being taken seriously was a constant throughout. I won the crew over quickly by being professional and showing them we had the same goals."

On Lindsay Lohan:
"I think Lindsay is amazing, and I don't have a single negative thing to say about her."

Bonus thoughts on James Franco:
"After my first meeting with Paul, he mentioned he was going to a James Franco party for an art piece he commissioned called 'Rebel Dabble Babble.' 'I'm in that!' I told him. I ended up crashing the party with Bret, but that's another story. My not receiving an invite to a party to celebrate a project I was part of is the point. One, Franco is a dick. Two, I would be fighting an uphill battle. Paul and his wife were not the only ones who thought of me as a party trick."

There's also a great sentence about how Schrader made fun of porn and then got put in his place. Read it all here.