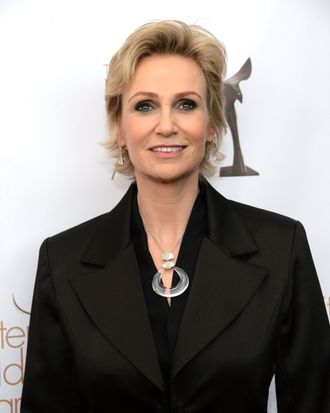 Actress Jane Lynch arrives at the 2013 WGAw Writers Guild Awards at JW Marriott Los Angeles at L.A. LIVE on February 17, 2013 in Los Angeles, California.
Photo: Jason Kempin/Getty Images
Jane Lynch will be making her Broadway debut this spring in Annie. She's taking over for Katie Finneran as Miss Hannigan, Lynch tells the AP, and her run starts May 16. Lynch has perfected her horrifically abusive caretaker character after four seasons on Glee, so Miss Hannigan seems to be pretty squarely in Lynch's wheelhouse. There are only so many ways to terrorize children and yet somehow be a fan favorite.