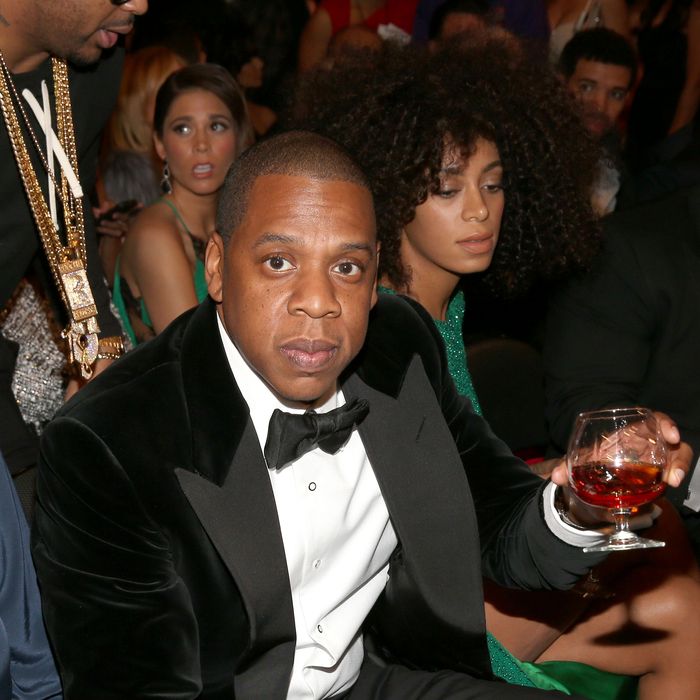 Singer Justin Timberlake (L) and rapper Jay-Z perform onstage at the 55th Annual GRAMMY Awards at Staples Center on February 10, 2013 in Los Angeles, California.
Photo: Christopher Polk/Getty Images
Barring any last-minute Blue Ivy preschool conflicts, New-School Rat Packers Jay-Z and Justin Timberlake are going on tour together. This makes sense for JT: He has an album that needs promoting; he's been out of the game for a while and could use a popular buddy; Jay can probably get him extra-special catering at Barclays. For Jay-Z, it's a less obvious choice — his wife has her own tour planned, for one, and he doesn't have new music to promote (other than his throwaway "Suit & Tie" verse). It could be that "Eight Shows H-O" just wanted to get out of the house for a few nights and decided to do his new friend a favor. But the tour fits into what seems to be a consistent post-"retirement" career path for Jay-Z: affable collaborator. His creative partnerships with Kanye West, his wife Beyoncé, and now Timberlake have remade him as the benevolent legend — the all-star who shows up at the end to make a "Swap Meet" joke. He gets all of the relevance and very little of the criticism.
It's a smart (and mature) strategy for a rapper past his prime, which Jay-Z is, at least musically; after the twin peaks of The Blueprint and The Black Album, the aughts were a slide toward Blueprint 3, and his guest work has been spotty in the four years since. ("Looooove/ I don't get enough of it" is a memorable low, along with "3 Kings" and that pizza rap bit on "Talk That Talk"). But phoning it in is less of a crime when you're actually e-mailing a verse for someone else's track. A feature, after all, is an act of generosity and also, helpfully, a reminder that Jay-Z is someone who can still make a hit. Watch the Throne proved this latter point three or four times over, and the album's basic concept — the King and the Heir, rapping from the top of the mountain — boosted Jay more than a mediocre solo album could have, even though Kanye handled most of the production and arguably pulled off the once-unthinkable in besting Jay-Z on the verses too. Kanye and Jay's partnership is somewhat unique in the annals of hip-hop, traditionally the most competitive of mediums. By all rights, Kanye should have been gunning for Jay-Z's title; instead, the two have a personal and creative friendship that enhances both careers.
Then there's Beyoncé. Jay-Z is always available for a carefully chosen guest spot on one of her tracks, but more important, he serves as head cheerleader (with a hint of Svengali), urging on his more famous wife with hugs and tweets and backstage phone videos while sharing in her spotlight. As long as he's playing Godfather, he can have his big throwback nights (Carnegie Hall, Barclays) and steal the show at more current events. His appearance at the Grammys, laying back with his cognac, and applauding his friends, epitomized this role. It's a form of largesse that only an extremely secure performer can pull off.
In the same vein, the Timberlake tour will keep Jay-Z at the center of things for another six months, and he doesn't even have to worry about reviews. Admittedly, it's a specific semiretirement plan; only someone with Jay-Z's social capital could afford to coast on residuals for as long as he chooses. Most rappers (or bands or actors or humans) aren't willing to share equal billing with the next generation. More artists should consider it, though; better to be the guy good-naturedly mocking the hats than the guy wearing them. Just ask The-Dream.