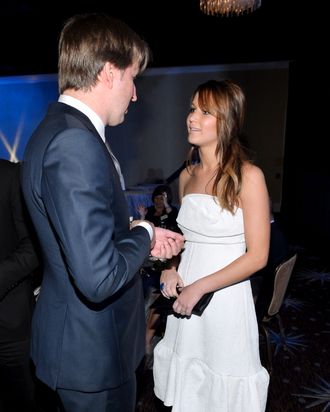 Jennifer Lawrence.
Photo: Alberto E. Rodriguez/Getty Images
As we noted last week, some actors wilt under the promotional pressures of Oscar season, but fortunately, Jennifer Lawrence is not one of them. The Best Actress front-runner stormed the U.K. this past week to promote Silver Linings Playbook and attend the BAFTAs (where she lost to the similarly real-talkin' Emmanuelle Riva), and she found a sliver of time to talk to the Telegraph and the chat show Daybreak while she was there. Meanwhile, back on U.S. soil, Lawrence remained her usual quotable self in interviews with Nightline and the Wrap. Did she drop more truth bombs and self-deprecating statements? Well, does a Ree Dolly skin a squirrel in the woods? (For the less Lawrence-literate, that means, "Of course she did.") Here are eight more things we've learned about Lawrence over the past week:
She would never wear a slutty Halloween outfit:
"[A tabloid] said that I dressed up as, like, a sexy medieval [woman] and that upset me more than the dating rumors that have been circling around that were fake," she told Nightline. "If somebody thinks I'm going to dress sexy to a costume party, they have another thing coming."
As a child, she would harass her father, who worked from home:
"My dad is trying to work," Lawrence recalled to Nightline, "and I would be, 'Wait, wait, wait,' and put on a new show where I would dress up as a person and knock on the door and be like, 'Hi. My name's Judy and my car broke down, can I use your phone?'" Added Lawrence with a laugh, "And yet, none of us ever assumed I would be an actress."
She doesn't spend much time at parties after winning awards:
"I always go home," Lawrence told ABC. "[After the SAG Awards], I stopped at Harvey's party, Harvey Weinstein's party, for a little bit. Got my parents drunk and then I left and went home."
Soon enough, Lawrence may become our most valuable homegrown export:
"I love London — it is my favorite city in the world," Lawrence told the Telegraph. "I used to live in Notting Hill, and I'd love to get a place there eventually … I once got shown around a place in London by an estate agent that laid claim to being the narrowest house in the world. It was amazing, but I noticed it was drawing crowds just on account of its dimensions, so I thought, Hang on, I'm famous, and this house is already attracting people without anyone living here at all. So it wouldn't be very good for living a quiet life."
She has a theory when it comes to talking about your personal life:
"You don't want your relationship to be in the press," she said to the Telegraph, "but at the same time, and this is only a theory, the more you try to keep it secret, the more the media tries to crack it open."
So, about that Golden Globes "wardrobe malfunction":
"It was tiered, so it wasn't technically a dress malfunction, but it wasn't exactly planned, either," she laughed to Daybreak. "The worst part is I had no idea, so as my pants were falling off, I just had this clueless look on my face.
She lost a lot of roles early on in her career:
"I was a terrible auditioner," she told the Wrap. "I remember how frustrating it was when I would go into an audition and somebody had seen [my early films] The Burning Plain or Poker House, and they'd say, 'Based on her performance in the movie, I thought she was going to be a lot better.' I would feel like, I was doing a movie when I did that! You just handed me four pieces of paper and were like, 'Act, monkey, act!'"
There is a picture David O. Russell took that sums up Jennifer Lawrence:
At the Golden Globes, after Lawrence won the trophy for Best Actress in a Comedy or Musical, she snatched a bag of potato chips from backstage and took it back to her seat, getting crumbs on her Dior haute couture gown. Her Silver Linings Playbook director Russell then leaned in for a snapshot: "It's my favorite picture, and it's of her fancy, bejeweled hand in a bag of potato chips," he told the Wrap. "That's our Jennifer. She's a surfer kid and she's a glamorous woman."