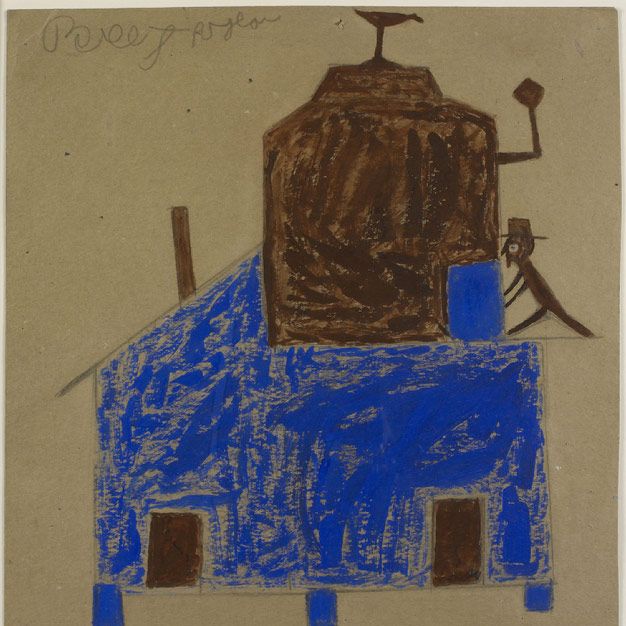 Untitled, (Blue and Brown House with Chimneys), circa 1939-1942, by Bill Traylor, at the Outsider Art Fair. Courtesy of Ricco Maresca Gallery.
Photo: Ricco Maresca Gallery
The Outsider Art Fair has been beautifully revived, and today through Sunday, you can see it in the charmed spaces of the former Dia Building at 548 West 22nd Street. Launched in 1993, the Fair spent many happy years in the Puck Building, during which time brilliant visionaries were seen for the first time — artists like James Castle, Morton Bartlett, George Widener, Melvin Way, Judith Scott, and A.G. Rizzoli, all now part of the "outsider" canon. Then the show hit a plateau about eight years ago and eventually went all but bland in an out-of-the-way office high-rise on West 34th Street. By last year, I thought we'd seen the end of a great thing.
The Chelsea dealer Andrew Edlin shows contemporary artists and also represents the estates of geniuses Henry Darger and Ralph Fasanella. In the past year, Edlin bought the fair, weeded out lesser dealers, added new ones, and moved the show to this beautiful space. For that intrepid effort alone, he deserves a key to the city. The show looks great here. There's more room, wider aisles, better light, less dross, higher energy. Search any of the 40 booths, and there's a good chance you'll uncover something newish worth your while. And not too overpriced. Maybe a few of these discoveries, too, will enter the "outsider" pantheon.
Which brings us to the the horrible Rubicon that still separates so-called "outsider," "self-taught," and "visionary" art from institutionally sanctioned official art. Now that even immigration reform can happen, it's time for MoMA — and all museums — to integrate "outsider art" into their permanent collections and erase that distinction for good. They need to allow these artists to take their rightful places in the canon. In addition to the artists mentioned above, visionaries like Hilma af Klint, Emma Kunz, Bill Traylor, Adolf Wolfli, Martin Rameirez, Minnie Evans, John Kane, Clementine Hunter, Hector Hyppolite, and others must be integrated into the canon. At the Fair, there's a 1939–1942 town scene by one of the greatest "outsiders" of them all, Bill Traylor, that would easily compare with any Picasso from the same period. Or, indeed, any artist.
With this outmoded discrimination still in place, the story of art is woefully misrepresentative — a lie, even. Millions of viewers and thousands of nascent artists are being denied the chance to see some of the best work made in the last 100 years simply because it was once decided that to be an artist meant having had preapproved training. It's a self-perpetuating false distinction, like the one art historian Linda Nochlin famously wrote about in 1971, asking, "Why have there been no great women artists?" The answer to this brilliant rhetorical question, of course, was that to be a "great artist," one had first to be trained in the academy via drawing the nude. Since women weren't allowed into academe and were considered too pure to look upon the nude, they couldn't be seen as "great."
Similarly, MoMA and other museums once drew strict lines between insider and outsider because they were beset by accusations that modern art could be made by disturbed people and untrained artists. Thus "outsider art" had to be left out in the cold, out of fear. Those embattled borders are long gone; the wars were all won. Museums: I say it's time for you to set aside these old chauvinisms. There are no more excuses. You're on the wrong side of history. Your definitions of art are reductive and insular where they need to be inclusive and expansive. You've hit a wall. Change — or wither with your prejudices and die a slow death.