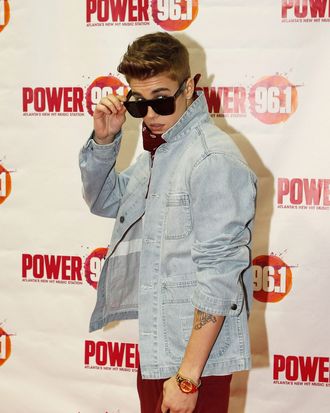 Justin Bieber attends Power 96.1's Jingle Ball 2012 at the Philips Arena on December 12, 2012 in Atlanta.
Photo: Butch Dill/Getty Images
On Sunday night, Black Keys drummer and occasional shit-talker Patrick Carney told TMZ that Justin Bieber didn't deserve any Grammys. His thoughts: "Grammys are for like music, not for money … and he's making a lot of money. He should be happy." Guess who's not happy, at least with that quote. Justin Bieber, who tweeted: "the black key drummer should be slapped around haha." Okay, someone put Bieber on social-media time-out.