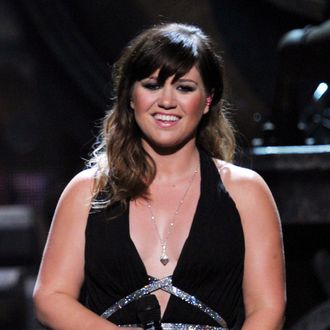 Photo: Kevin Winter/Getty Images
So far, the biggest headline from Clive Davis's memoir has been that he's bisexual, but now it's time to talk about Kelly Clarkson, who is portrayed less than favorably in The Soundtrack of My Life and who has just posted a clarification (really more of a passionate rebuttal) to Davis's version of events.  She objects to pretty much everything that Davis wrote about her, but especially the claim that she sobbed "hysterically" over the inclusion of smash-hit "Since U Been Gone" on her 2004 album Breakaway. Her side of the story:
Not true at all. His stories and songs are mixed up. I did want more guitars added to the original demo and Clive did not. Max, Luke and I still fought for the bigger sound and we prevailed and I couldn't be more proud of the life of that song. I resent him dampening that song in any way.

But, yes, I did cry in his office once. I cried after I played him a song I had written about my life called "Because Of You." I cried because he hated it and told me verbatim that I was a "sh*tty writer who should be grateful for the gifts that he bestows upon me." He continued on about how the song didn't rhyme and how I should just shut up and sing.
She also takes issue with the book's description of My December as unsuccessful (and its suggestion that Clarkson was to blame because it didn't contain any "pop hits"). And then she turns it around on Davis: "He doesn't mention how he stood up in front of his company at a convention and belittled me and my music and completely sabotaged the entire project. It never had a chance to reach its full potential." That last sentence sort of undercuts her point about the album's "success," but still, not a good look for Clive Davis. Related: Now seems like a good time for Kelly Clarkson to write her own autobiography (or at least the Idol book. The world needs to know).