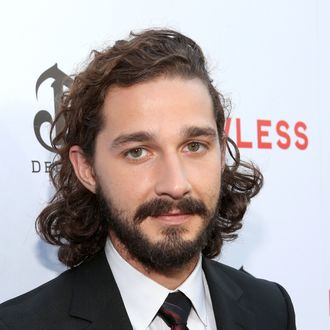 Photo: Christopher Polk/Getty Images
Yesterday, we learned that Shia LaBeouf left the production of what was to be his first Broadway play, Orphans. The reason he gave was "creative differences." LaBeouf then took to Twitter to expound upon that and post e-mails from those involved. From these correspondences, you get a very clear sense that those "differences" were between LaBeouf and Alec Baldwin.
In one e-mail, the play's director Daniel Sullivan wrote: "I'm too old for disagreeable situations. You're one hell of a great actor. Alec is who he is. You are who you are. You two are incompatible. I should have known it." This was in response to an e-mail from LaBeouf, in which the actor kind of writes a prose-poem about what it means to be a man ("A man owns up. That's why Mark McGwire is not a man. A man grasps his mistakes") and apologizes to Baldwin: "Alec, Im [sic] sorry for my part of a dis-agreeable situation." 
LaBeouf also posted an e-mail exchange with Baldwin. In his message, Baldwin wrote: "When the change comes, how do we handle it, whether it be good or bad? What do we learn? I don't have an unkind word to say about you. You have my word." Nine minutes later, LaBeouf responded in all lowercase: "same. be well. good luck on the play. you'll be great." That might've been a curt response, but, hey, at least we know LaBeouf isn't the type of guy who just doesn't respond to your e-mail for like a week.