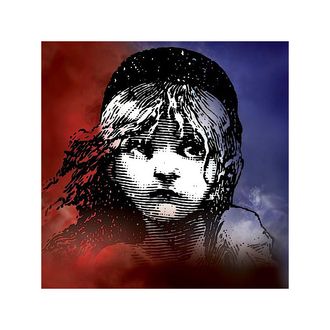 Sir Cameron Anthony Mackintosh, friend of the working man, is bringing miserable back. All the miserables, in fact: Les Misérables — flush with brand recognition after its extreme close-up at movie theaters — will be revived yet again in March 2014. The last revival closed a relative bust in January 2008, after less than two years — a scandal by Mackintosh's standards. This is, after all, the man who gave us Cats, Phantom, Miss Saigon, and our modern concept of France as a grim, gray cesspit with a sheen of shimmering melody on top.
The sputtering of the '06 revival seemed to prove, beyond a doubt, that the age of the megamusical was well and truly over, beyond even the defibrillation of nostalgia. So what's Mackintosh doing reviving Les Miz again? Well, turns out that Tom Hooper's very bad, fairly well-received movie boosted "awareness," that mysterious phlogiston of modern showbiz. Les Miz newbies are filling the seats at touring productions, and Cameron's produce-y sense is all atingle with the ambient money in the air. He openly regrets the '06 show and plans to double down on that regret by making this show totally different: They're skipping the turntable stage, for one thing, and aspects of the design and approach will approximate the film. (I can only assume this means Fantine will come sit in everyone's lap and sing "I Dreamed a Dream" directly into each theatergoer's left nostril.)
My first reaction to this news was, This is not news. This is business doing what business does. But now I'm curious: If the only way to produce a musical on Broadway is to base it on a successful or semi-successful film (like the upcoming stagings of Aladdin and Charlie and the Chocolate Factory) — even if that film is itself based on a super-successful Broadway musical that actually originated in a theater, not in Hollywood — then the new, movie-boosted Les Miz might represent the final Ouroboros-izing of the broken Broadway business model. What comes next? Movies can only get green-lighted if they're sequels; Broadway musicals can only move forward if they're based on movies. (Somewhere in this quantum-physics-level equation there's a way to get Green Lantern 2 starring Norbert Leo Butz — score by Jason Robert Brown — into production.) Will the new Mizheads even realize the show began onstage? Will it matter?
Probably not. The important part is, the stage version of the movie version of the stage version of Les Miz will keep the actors' faces at normal face-size and at least twenty feet from the nearest audience member. Also — inside-scoop spoiler here — when Russell Crowe dies onstage, he will actually die. So if you'd like to hear Javert sung, as opposed to gargle-moaned, get your tickets for the second preview or after.