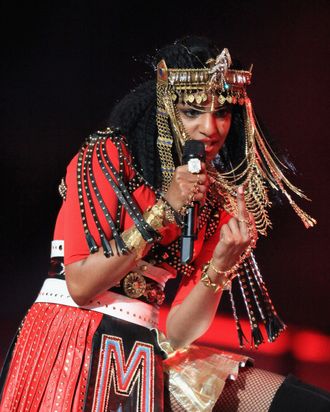 M.I.A. performs during the Bridgestone Super Bowl XLVI Halftime Show at Lucas Oil Stadium on February 5, 2012 in Indianapolis, Indiana.
Photo: Christopher Polk/Getty Images
">>>IM KEEPING A STEAL LOG THIS YEAR HERE THE ONE FOR JAN/FEB," noted shit-starter M.I.A. tweeted this morning, with a link to a photo collage titled "M.I.A. vs. the System." The entry in question shows a January 2013 M.I.A. set alongside the backdrop from the Bob Marley tribute at this year's Grammys — and yes, the laser-light boxes do look sort of similar. On the other hand, you don't see the Laser Portraits people accusing the Grammys of plagiarism.