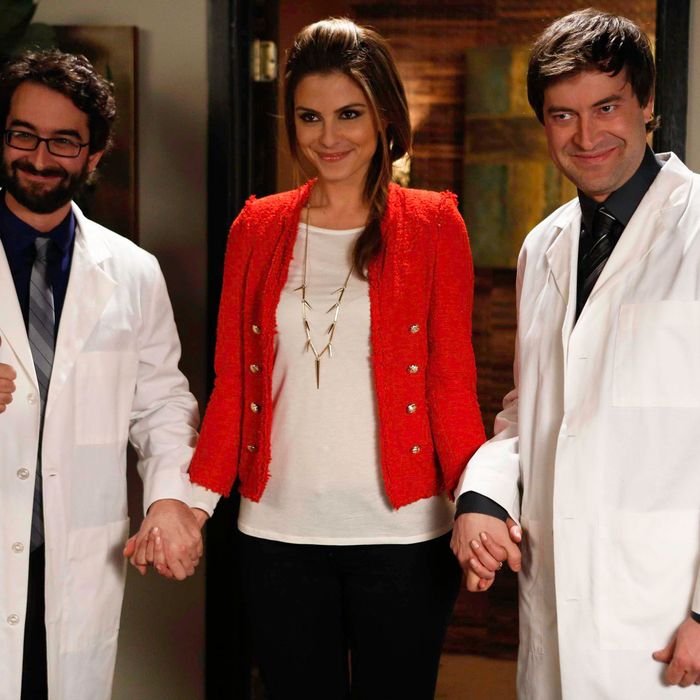 Mindy wants to save the world one "Women's Health Minute" in New York City taxis at a time — too bad we all hate Taxi TV and turn it off as soon as we slide into the backseat of a cab! Though if real Taxi TV were this fun — yes, that is Mindy Kaling in a half-Wilfred, half-Rolf from The Muppet Show getup, offering women's health advice along with a hand puppet — we'd stay tuned in.
Basically, this episode (directed by Kaling's Office co-worker, and love of last episode, B.J. Novak!) proved that in any episode less epic than, say, the pilot, or the Christmas party, or Valentine's Day two weeks ago, the simpler the plot the better. It felt like the ship had been righted by the When Harry Met Sally … homage of the last few episodes, which, given the rom-com-loving and/or -hating premise of this show, makes total sense. This week marked a significant chill-out from all that romance with a straightforward madcap story line, but it did so in a way that finally seemed right. The more workday episodes have been a constant struggle, and this finally stuck the landing with nary a B plot interference (there was the bit with the return of the older nurse turned secretary, but it wasn't much of a nuisance) nor an awkward use of poor Dr. Jeremy. It seems he's best when just standing to the side and saying things in British.
In this case, the DeLaurier midwives, "plastic-bottle-free since 2009," had a TV commercial featuring Maria Menounos, celebrity spokesmodel. "As a woman," she said, "I am made up of billions of cells and millions of feelings." She is also Mindy's hair idol, and so the competition was on. The "ageism lawsuit" brought by the practice's old nurse turned secretary hardly mattered. Even if the nurse turned secretary needed a new password that included "one in caps, three numbers, and two underscores." We do not know what that means. We do not care. Hoping we'll do better than an old lady who doesn't know how to use technology if we're going to bring this actress back over the long term.
Mindy was attending to a patient played by Adriana from The Sopranos, but she was not concerned: "Why does everyone always think they're anemic? I think they read the same article in Self or something." More important, Channel 8, home of the watershed "How to Zazz up Your Leftovers" segment, wanted Mindy to host a portion of the 5 p.m. news. And she "wanted to be a celebrity doctor before I even wanted to be a doctor"! The producers, including one played by the always funny Beth Littleford (you know her from like a billion things, including The Daily Show, Desperate Housewives, and, if you're me, The Hard Times of R.J. Berger), told her that her Taxi TV segments garnered her a zero Q rating, but her sad-dog, pity numbers were through the roof. Not to mention that her video was on Tosh.0 as "fat loser of the week."
Yes, she would do the TV segment, regardless of their ageism-plagued employee who "only trust[s] an older white man" to give her the news.
You have to give this show credit for continuously making women's health a plot point. Make all the jokes you want about Erica the hand puppet and "vagina" as a "local news no-no," Mindy Project, but just repeating this information on a broadcast sitcom is something. We don't know what "the unfortunate democracy of the urinary tract infection" is, exactly, but thank you for that phrase on national television.
And for the record, we would totally watch an episode about Mindy having brunch on the weekend with Anderson Cooper and Kathy Griffin. Even though Danny ultimately got to do the segment, with Mindy stuck doing her real job at the hospital with Adriana. Extra points for Danny saying "vagina" several times — after coaching Mindy to never say "vagina" — in addition to the phrase "just hand me the vulva" when his model got out of hand. Please, please let there be more "Women's Health Minute" segments in the future — we think Mindy would make a great celebrity doctor.
Another bonus: The show has subtly shifted Danny and Mindy's relationship to a very sweet, only occasionally insulting banter-y, friendship. Did he just call her "Min"? Yes, he did. One more point for the magic of When Harry Met Sally …