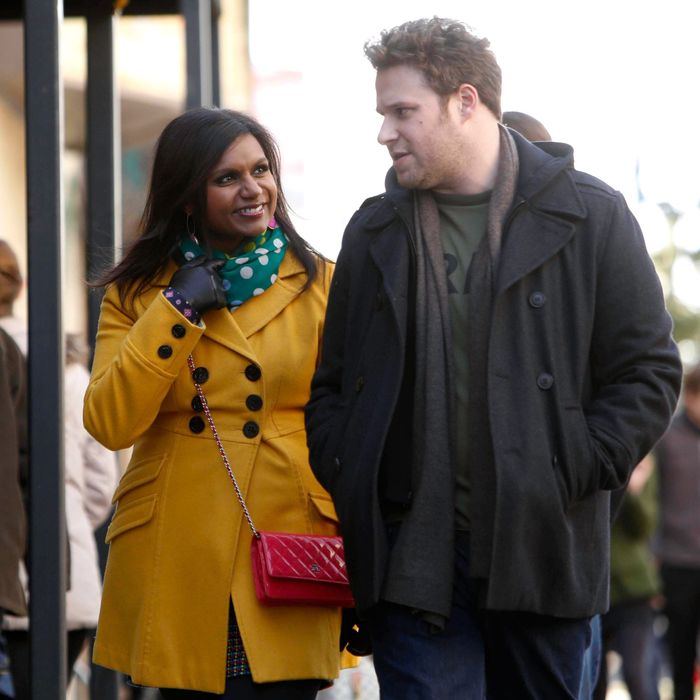 Photo: Jordin Althaus/FOX
It's official: The Mindy Project's first-season progress can be divided into Before B.J. Novak's Magical Guest-Starring Stint and After. Before had moments of brilliance, some pointless plots, and some more pointless people rotating through the roles of best friend, secretary, and Other. After has been firing on all cylinders through two strong episodes now, showing us both a standard sitcom high jinks episode (last week) and a postmodern rom-sitcom setup (this week).
Also: Special Guest Star Seth Rogen! Though, for the record, I don't think we need high-profile guests to make Mindy's dates work. Josh ruled, and he only looked like Matt Damon.
As for the specifics in this half-hour, they also worked nicely, starting with Young Mindy in flashbacks to Camp Takanac. That little girl does a spectacular Mindy Kaling. The kid who played Sam Kleinfeld, or Young Seth Rogen, delivered as well. The plot had the two meeting and falling for each other, in a really cute, genuinely friendly, at-camp way back when they were 13.
A forbidden sense of crossing cultures underpinned their liaison, with Michael Jackson's "Black or White" playing in the background and Mindy narrating that her parents would let her go to sleepaway camp "only if it was Jewish sleepaway camp. If I was going to be away from home for several weeks, my parents only trusted me in the gentle hands of the Jews of the Berkshires."
Mindy and Sam met when Sam's friend confronted her about her non-Jewishness, and she answered, in very Mindy-like fashion, "For your information, Camp Takanac has been open to non-Jewish campers since the landmark 1989 case Chan vs. Takanac." Little Seth Rogen got his big line when he defended her by saying she was Sephardic. (When she asked what that meant, he answered, "Don't worry, the joke landed.") They bonded over her piece-of-the–Berlin Wall necklace, and they were off.
With that 1989 reference, I couldn't help thinking: Wait, how old is Mindy? Before I could figure it out, Betsy was asking the same question, though admittedly with a different emphasis: If Mindy and Sam lost touch because there was no e-mail or Facebook back then, how old is Mindy? Somewhere between Betsy and me, I suppose. Mindy's answer: "I'm fine. Don't worry about me."
Actual Rogen made his entrance as grown-up Sam wearing an ARMY shirt that was not from Urban Outfitters, but was the free kind you get when you join the armed forces. Yes, he was on leave from serving in Afghanistan, a perfect setup for Mindy's ongoing pursuit of the rom-com. He was also full of those throwaway lines that are a Rogen — and, incidentally, a Kaling — specialty, though I never put the two together before. On adjusting back to civilian life: "There's even more singing competitions now? That actually spooked me out." Out of nowhere: "You ever get your period? That was a big thing last time we talked."
Their adventures together brought us some nice extras, too, like the gag about the drugstore self-checkout. If you've used those things, you know that was startlingly accurate. It also gave us the impossible rom-com problem: He'd be deploying again for eighteen months, starting the very next day.
As Mindy discussed the situation with her co-workers, we got a bonus exchange between her and Danny:
Danny: "This soldier doesn't fit into your Sex and the City find-a-husband scheme, so he's worthless to you now?"
Mindy: "Sometimes I feel like you've never even seen Sex and the City.
As usual, Mindy took Danny's advice despite her scoffs to the contrary, and off she went to find Sam wherever he might be getting his ARMY tattoo. (In a particularly romantic gesture, he stopped early when she showed up, resulting in an unfinished but "accurate" ARM tattoo.) They hit up — what else? — a Nora Ephron double feature. Intoxicated by the combination of Meg Ryan, Tom Hanks, and Sam's exchange with an older vet on the subway — if you've ever seen Army guys encounter each other, you know the touchingly respectful ritual — Mindy took Sam home. Postcoitally, she outlined some of her weirdly specific romantic fantasies, like watching him fix her air-conditioning while she hands him tools.
He gamely agreed to do this, only to end up, as Mindy so wonderfully said, "defenestrated." It really makes you wonder what used to go on in the world that someone thought it necessary to make up a whole fancy word for falling out the window.
Back at the office, Danny was also fielding a funny little side problem: Patients who wanted him to be their sperm donor because he has "the class of a young Robert Duvall and the gravitas of an old Robert Duvall." He seemed skeptical until they hit him with, "We'd be so lucky if our son turned out like you." He agreed, but seemed to be waffling as he discussed it with Team Office. They all piped in according to character. Morgan: "You're gonna be a dad!" Jeremy: "The world needs more rough-hewn strivers like you." Scary New Old Secretary Lady: "More like, 'Hey, Dad, remember me?' Boom." Incidentally, she's coming into her own here, possibly turning into a female version of The Office's Creed, with hints at a dark personal life we'll never know.
The defenestration incident came in handy here, sending Mindy to the hospital with Sam and allowing her to run into Danny, and thus to help him out of his mess. All while Sam was being treated for his sprain, she managed to meet with Danny and the couple, then talk them out of wanting his sperm. "He's scared of Game of Thrones," she listed among his faults. "Also, he has tiny ears, and he's a selfish lover." (Chris Messina did a nice job of indicating with mere noises of protest that no, audience, Danny and Mindy have not, in fact, hooked up.) She convinced them and got back in time to try to persuade Sam's doctor to get him out of service for a while by calling his sprain a "fracture."
But the doctor wouldn't, and furthermore, Sam wanted to go back, because he loves what he does. He would never get to fulfill Mindy's fantasy of going to Central Park Zoo with her, where a giraffe would steal their ice cream.
However, in a nicely understated romantic-comedy ending, he left her a funny-cute note, delivered by Danny. And Danny showed us that he knows exactly what Mindy likes from the vending machine. Aw.