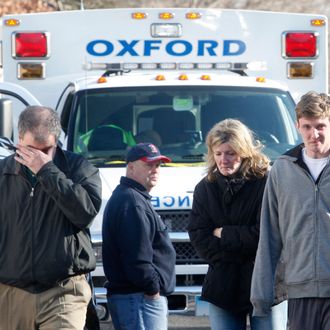 Offerings are left at a curbside shrine as residents pay tribute to the victims of an elementary school shooting in Newtown, Connecticut, on December 15, 2012. A young gunman slaughtered 20 small children and six teachers on December 14 after walking into a school in an idyllic Connecticut town wielding at least two sophisticated firearms.
Photo: Michelle McLoughlin /Reuters
Someone called Jonathan Bucari is making an independent movie pivoting around the horrific school shooting in Newtown, Conn. Worse, the plan is to film in Ridgefield, Conn., twenty miles from Newtown, although Ridgefield officials have expressed opposition. Illness plans to depict a mentally ill 13-year-old boy whose parents begin worrying about him after the Newtown massacre. "We are not doing a movie about what happened in Newtown and will never do so. We are doing a non-profit film about mental illness," read a post on the Facebook page for the film company, Demian Productions, since deleted. There's still an Indiegogo page trying to raise $3,000, though.