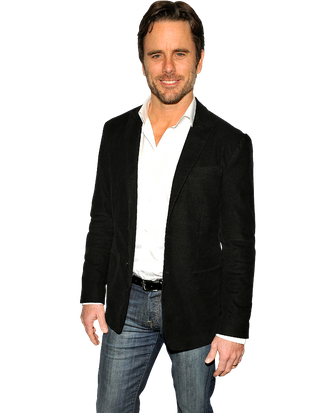 Chip Esten.
Photo: Getty Images
As Nashville's sexy, broken-hearted guitarist Deacon, Charles Esten's screen time is pretty much divided between pining for Rayna (Connie Britton), singing sad songs about Rayna, and sleeping with other women to distract himself from thinking about Rayna. He could stand to have more fun, and Esten, probably best known for his work on the improv comedy series Whose Line Is It Anyway?, is certainly game. He's just not making any promises about the sun coming out. Vulture spoke to the actor about his transformative facial hair, all the songwriting he's been doing on the side, and whether we'll ever see Deacon stop acting wounded and get his.
I used to watch a lot of Whose Line Is It Anyway? Do you think it's still the first reference for most people?
It continues to amaze me how many people enjoyed and love that show, grew up with it. It's cool.
I just read you still do live performances with those guys!
Absolutely. For a while now, I've been doing the live shows with Ryan Stiles and Greg Proops and Jeff Davis. It's the perfect amount; we just go on the road from time to time and get a theater. There's a whole bunch of fans now who've mostly seen it on YouTube. They're young enough that I know they didn't watch it when it was on TV. It's like a never-ending piñata — there's always a little more candy coming out of it. I imagine there's a little whiplash for people to see me as Deacon.
You've done a lot of TV. I just feel like the facial hair made its debut in Nashville. You look like a different person.
It actually made an early debut in The Postman. Do you remember that movie?
I do. Mom's a big Kevin Coster fan.
Yeah? I was probably a late developer. It was pretty patchy and sparse then. It finally came in, in my advanced years.
Did they ask you to grow it for Nashville?
I think I had it when I went in. I've always been the clean-cut guy, and I just didn't see him being fresh-faced. So I didn't shave, and when I got a call back, one of the notes was "Tell him not to shave." I guess they'd seen my headshot.
Or they watch Enlightened, where you look completely different as Damon, and it's just a matter of facial hair.
Yeah, true. Also, I lost some weight since then, not that I was overly big or anything. I just thinned out a little bit to play this role, which I also thought made sense.
How did you get involved with Enlightened?
I auditioned, and actually my audition scene was the one where Amy goes to Damon's house to talk it out after all this craziness. I immediately got it. It's almost like Fatal Attraction for my character, where he messed around with this woman, but instead of boiling a rabbit and losing her mind, she went and got help and now she's back in his life and at work and she really wants to share how she's come through it. Like, What are you doing? "Get out of my front yard." I'm just a huge fan of that show. It's so real about the pain of trying to be a human being, trying to do the best you can, and failing so often. Amy's very Deacon-esque that way. [Laughs.]
When Deacon kissed Rayna, did you think, Finally!?
Well, the actors are not on the same rides as everyone else, but, yeah, we know it's been a while for you. It's more about, How is this going to play out? It's not like a movie we're going to wrap up: We're together! The end! It's a journey. Even now that her marriage isn't quite the obstacle that it once was, I think we're going to find out that like so many couples who have a deep, deep thing, there's other stuff that gets in the way as well. It did make perfect sense to me that Deacon would finally be fed up with all the talking. We know as well as anybody that our characters have been talking around a lot of things.
I'd like to see Deacon less frustrated and mopey before the season's over, but it doesn't sound like that's going to happen.
Well, that's only on the Rayna front. When and how are they ever going to end up together? That can be frustrating. But he's looking for peace in other places too. It won't just be pure frustration all the time. I couldn't play that and no one would want to see that. We do want there to be an arc where things get fulfilled. I think you'll see him smile in the next episode. [Laughs.]
You've said in other interviews that you're also a songwriter. Will you be writing anything for the show?
Yeah, I've wanted to come to Nashville for a long time, and jobs just kept getting in the way, mercifully. I do remember saying to my wife, "When am I ever going to get to Nashville? When is that ever going to happen?" Then here comes this script. When I'm not working I'll go meet up with a great songwriter, and there've been times where I've been like, Aw, jeez, I gotta go and do this show. [Laughs.] I had one song that nearly got in [an episode], but we ultimately decided it didn't quite fit. That's definitely a goal, but I'm not trying to write a piece of material that fits utterly in the show. I'd rather just write songs and hopefully one of them will be appropriate.
Is T-Bone Burnett [Nashville's executive music producer] working with you to make that happen?
Oh, yeah. They went ahead and took one of the songs I had written with a friend and it was right up there, looking like it was going to be in the show. T-Bone added his magic to what we'd done. It's a really gorgeous song.
What was it about?
It's a love song called "Pretend It Isn't There," and it's about the thing that you both can't speak about. It's a real emotional song, but the scene wasn't about the song I'm singing, and it was a little too heartfelt and confessional to be background music. So we didn't do it. And, also, the story had progressed beyond the song, what with Rayna's divorce moving forward. It just wasn't the perfect fit it could have been. But it's definitely a goal.