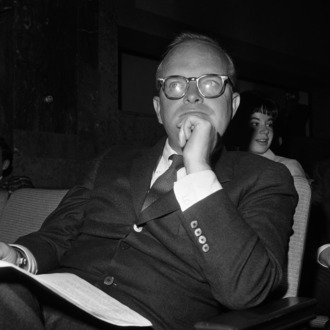 Capote in '61. (AP Photo/Henry Griffin)
Photo: Henry Griffin
Truman Capote's In Cold Blood — the seminal "nonfiction novel" about the brutal slaying of a family of four in an isolated Kansas farmhouse — his reputation as a literary giant when it came out in 1966. Since then, critics have occasionally questioned whether or not the work was, as Capote said, "immaculately factual." Now, the Wall Street Journal reports that a previously unknown batch of Kansas Bureau of Investigation documents shows that Capote's account contains some fairly major inaccuracies lead detective Alvin Dewey Jr.
The documents reveal that the agency actually waited about five days before acting on a tip-off regarding the identities of the murderers — Perry Smith and Richard Hickock — and only then sent several agents to the Hickock family farm. A small detail, perhaps, but quite damaging insists the Journal.
For comparison's sake, here is how Capote described these same events, as partially paraphrased by the Journal:
That very evening the KBI dispatched [Agent Harold] Nye to the farmhouse of Mr. Hickock's parents. Finding only the parents home, Mr. Nye sits down to coffee with them.

Making no mention of murder, Mr. Nye pretends to be seeking Mr. Hickock only for parole violation and hot-check writing. That tactic induces Eunice and Walter Hickock inadvertently to disclose all manner of incriminating information about their son, including that he recently bought a 12-gauge shotgun, leaning right there against a wall—the same gauge used to kill the Clutters.

"Nye shut his notebook and put his pen in his pocket, and both his hands as well, for his hands were shaking from excitement," Mr. Capote wrote. Within a few hours of receiving the Wells tip, in Mr. Capote's telling, the KBI had essentially confirmed it.
In reality there was no "lone agent venturing in the dark of night to the farm, and being served coffee." All that was a romantic fictionalization. So what makes these inaccuracies any different than In Cold Blood's various other literary fabrications and flourishes? "They undermine one of the longest-standing defenses of the book," the Journal points out, "that the KBI hailed it as true."
Oh, and then there's the 1965 movie contract unearthed by the Journal in which Capote demands that Columbia Pictures hire the wife of his book's erstwhile hero — KBI detective Alvin Dewey Jr. — as a consultant on the film version of In Cold Blood for a fee of $10,000. ("A fee far greater than the U.S. median family income that year," complains the Journal.) All in all, not a great day for the memory of Truman Capote.