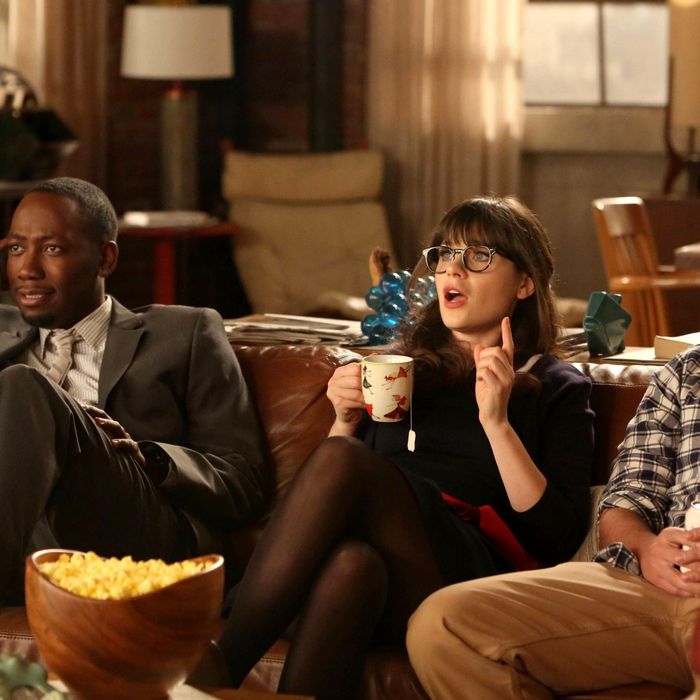 Photo: Patrick McElhenney/FOX
Like so many sitcoms about friends (for example, um, Friends), New Girl is as much about the love between roommates as it is about the love between two people who want to put their mouths on each other's mouths. Sometimes, of course, those two mouthy people are also living together and that makes everything very complicated. But even when the love is purely platonic, it can be a multifaceted mess. Last night's episode was all about duos, their feelings for each other, and the tension that arises when third parties come into play.
Nick and Schmidt and El Baño Presidente
After ten years of living together, Nick and Schmidt are celebrating their tin anniversary with a party. The name: Tinfinity. The theme: Masculine garden party. The tagline: "Ten years, two hearts, one home."

Few things underscore the differences between Nick and Schmidt like their approach to party planning. Schmidt basically throws himself a one-man wedding every time his birthday rolls around, while Nick can't even be trusted to remember to send out invitations. After a decade, they're both aware of their tendencies, but Nick still resents being treated like he's incompetent, so he takes on two jobs: balloons and porta-potties.

For the former, he gets a hot-air balloon without any propane. For the latter, he buys a single, terrifying outhouse from the junk heap at the rental spot. The owner: "That's garbage." Nick: "That's what the nursing home said about my mattress. I'll take it!"

Of course, at the party, nobody wants to use Nick's bathroom, not even Jess, who tries her best to sell it to the other ladies by loudly exclaiming, "Ooh, just my style. Nicely vintage!" (Congrats to the New Girl writers for finally discovering the one type of old-fashioned home decor that can never be properly Etsy-ized.)

Worse, Schmidt, overpreparing as usual, has rented "El Baño Presidente," apparently the nicest porta-potty in all of L.A. He has also compensated for Nick's half-assedness by writing him an entire toast — one that includes the phrase "I'm nothing without you."

This leaves Nick angry and nostalgic for college, back when he had a stupid mustache and Schmidt was fat and they were both equals. They were equals back then, Schmidt says, but now he has his life together. And anyway: "You know how our relationship works. I'm over-responsible, you're under-responsible." It's like Schmidt has picked up on the lesson from the "You got me cookie, I got you cookie" episode earlier in the season. He's willing to be the one who puts in all the effort, but he's twisted that dynamic in a way that Nick finds condescending.

Cece and Shrivang and Schmidt
If you wanted more Satya "Scott Pilgrim" Bhabha on this show, your wish has just been granted. His first proposal to Cece left something to be desired: The moms approve of their match, he says, so when should they do this thing? Cece, bless her heart, tells him that isn't going to cut it: "I barely know you, and I used to just think that if I was proposed to I would notice it was happening." At the very least, he could fight her seven evil ex-boyfriends.

Actually, he does her one better, grabbing the mike and proposing at the apex of the Tinfinity fest. The proposal successfully hijacks the entire toast sequence, including the song (Queen's megapower ballad "Save Me"), the light show (of course there's a light show), and the cake. It's really sweet, and pretty much the worst thing that's ever happened to Schmidt. Anyone else think for a moment that Cece wasn't going to say yes? Shrivang seems nice, and she claims she's looking for marriage, but the sparks certainly don't seem to be there.

And yet she does accept, puncturing Schmidt's heart and sending him running off to Nick. He might be incompetent when it comes to throwing parties, but he understands when a guy just needs to sulk in a grounded hot-air balloon. "I know it sounds kind of corny," mourns Schmidt, "but I always thought I was going to be the man to bone Cece for the rest of her life." Aw — but let's not rule it out quite yet. After all, the show needed to build in more obstacles for Schmidt and Cece, and this is a big one.

Jess and Jax and Winston
For me, at least, this felt like the least successful of the episode's story lines. Played by Steve Howey of Shameless, Jax McTavish is a San Francisco football star Winston has befriended. Jess apparently likes really tall men, because she instantly identifies him as a good way to get over Nick. As she explains, she doesn't want to be with a guy who can't talk about his feelings. The more she says this, though, the closer the punch line looms: Obviously, Jax is going to be a dude who has too many feelings.

Before we get to that, though, there's a bit of drama with Winston, who doesn't want to lose his new friend to his roommate. He tells her she can't compete because she knows nothing about sports. Says Jess: "What am I going to do? I guess I'll just have to use my eyes. Hair. Boobs. Legs. And adorable personality." Winston: "I got like three of those things." It's a funny line, but it's some of the only screen time Winston gets during the entire half-hour.

Sure enough, Jax falls hard for Jess, starts to cry while explaining how much he likes her, and then admits that he just got out of a crushing relationship. This is bad, but it gets worse when he grabs the mike after Shrivang's proposal and announces to her, "I just want to say in front of God and all these people at this gorgeous party that I'm in love with you."

Jess, quietly, in the audience: "We are not on the same page."

Jax, to the crowd: "I met my third wife!"

There's a classic comic reversal going on here: Jess says she wants the anti-Nick, but of course the anti-Nick is just as difficult in his own way. But Jax's public display of affection doesn't feel grounded in reality, making it pretty much impossible for Steve Howey to pull it off. (Do people like him on Shameless? Between William H. Macy mugging for the camera and that guy who plays Lip being adorable, I feel like he fades into the background.)

It's a bit of a relief when Jax disappears and we're suddenly back to our core four drinking, or at least waiting for Nick to pass the bottle, in the basket of a grounded hot-air balloon. Three might be a crowd, but four is a nice, stable balance. If only Jess could stop thinking about Nick's mouth.