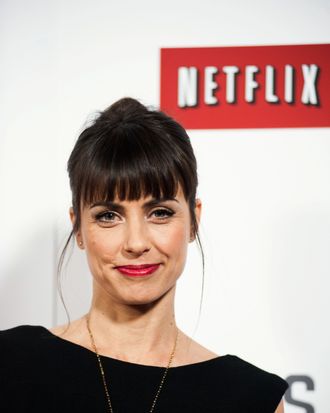 Constance Zimmer poses on the red carpet during the Netflix's "House Of Cards" Washington DC Screening at NEWSEUM on January 29, 2013 in Washington, DC.
Photo: Kris Connor/Getty Images
Constance Zimmer is inching toward Chris Messina territory, suddenly showing up everywhere all at once. She's been cast on the upcoming season of The Newsroom, according to Deadline, which comes on the heels of her current arc as hospital antagonist on Grey's Anatomy and her role as dowdy/grouchy newsroom antagonist on House of Cards. In Sorkinville, Zimmer will play a spokesperson for the Romney campaign, so … another antagonist, it seems.