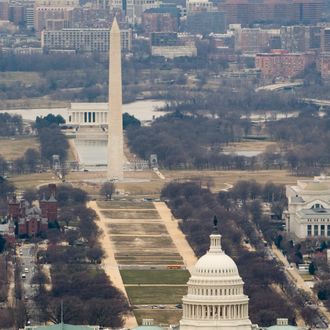 Photo: Saul Loeb/AFP/Getty Images
As Vulture's Claude Brodesser-Akner reminded us on Friday, Oscar campaigning is still big business in Hollywood — regardless of whether or not it works. But several of this year's more serious contenders — Argo, Lincoln, Zero Dark Thirty, and Silver Linings Playbook — also chose to lobby heavily in our nation's capital. Here's a round-up of their D.C.-centric exploits, including one Bill Clinton endorsement, a screening with President Obama, and the ZDT congressional hearing:
Argo
Already considered the hands-down favorite for Best Picture, Ben Affleck and co-producer George Clooney have still been charming their way through Hollywood over the past couple months. But they've also played up the Iran crisis movie's politics-adjacent storyline by premiering the film in Washington, D.C. and including a cameo by former President Jimmy Carter in the closing credits.
Lincoln
The film's greatest publicity coup came when President Obama  screened Lincoln at the White House with star Daniel Day-Lewis. "I think it's well publicized that Lincoln is my favorite President," Obama told Time magazine. "And so to see an intimate depiction of him in his work and the challenges that faced him even in a relatively compressed period of time was incredibly powerful." (He also said Daniel Day-Lewis was "masterful in that role," which probably won't hurt his Best Actor chances.) Lincoln also clinched a sort-of endorsement from Bill Clinton, who called it a "brilliant film" when introducing it at the Golden Globes. (Apparently director Steven Spielberg asked him to say nice things.)
Zero Dark Thirty
This film's depictions of CIA agents torturing suspected terrorists earned it more free political press than any of the other Best Picture nominees, though most of it was not good. Though the movie premiered in D.C. and received a positive review from outgoing Defense Secretary (and former CIA chief) Leon Panetta, it was panned by notable politicians from both sides of the aisle. Senators John McCain, Dianne Feinstein, and Mark Levin all publicly criticized Zero Dark Thirty — a congressional hearing was held — and even threatened to subpoena writer Mark Boal and director Kathryn Bigelow for their sources in the CIA and Defense Department.
Silver Linings Playbook
Though not overtly political like its Oscar rivals, Silver Linings Playbook has taken its mental health plotlines on the D.C. advocacy and talk show circuit: Robert DeNiro even sobbed when discussing the issue with Katie Couric. David O. Russell (up for Best Director) and star Bradley Cooper (up for Best Actor) had a sit-down chat about improving mental health awareness with Vice-President Joe Biden in the White House — a meeting that Jennifer Lawrence (up for Best Actress) skipped because, as she told The Hollywood Reporter, "What am I gonna say to the vice president?!" Russell was also present when the Excellence in Mental Health Act was introduced in a press conference.