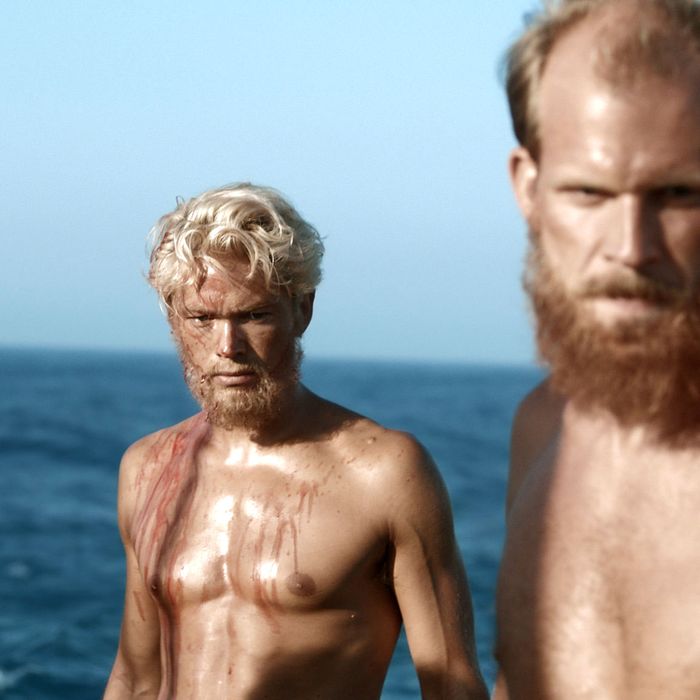 Photo: Nordisk Film/HanWay Films
You're forgiven if you haven't yet seen Kon-Tiki, the Norwegian epic that was one of this year's five Best Foreign Film nominees; while it's the highest-grossing film in the history of Scandinavia (it has earned $14 million to date in Norway and Iceland), trekking to Oslo or Reykjavik for date night can get pricey. But fear not: The film following Thor Heyerdal's famously harrowing 4,300-mile journey across the Pacific on a balsa-wood raft is coming to America in April, courtesy of the Weinstein Company. And yet, bizarrely, Harvey Weinstein won't be allowed to market Kon-Tiki as "Oscar-nominated" because the film isn't the same Kon-Tiki that was nominated for the Oscar — at least, not exactly.
The most expensive film in the history of Scandinavia, Kon-Tiki took co-directors Joachim Rønning and Espen Sandberg four years to cobble together 24 different financiers from seven different nations. And some of the biggest backers were some Germans with one nonnegotiable demand: "They said it was easier to sell it in Germany if it were [filmed] in English," Rønning recalls.
To get their German money aboard, the pair agreed to shoot two different versions of the same film, simultaneously. The result was as surreal as it was challenging. Here was a Scandinavian cast and crew shooting a film, first in Norwegian and, moments later, the same scene in English just to satisfy a European financier who would ultimately just re-dub the entire film into German.
"We would of course prefer to do it in one language. But this movie wasn't going to happen unless we did," Rønning explains. "The way we see it, we have two versions of the film, and we finished a Norwegian version first. The English version has been an ongoing process. They're very much the same, though the English version is a couple minutes shorter, just due to the language — it's a bit more precise."
Interesting, because there are actually many words in Norwegian for which there are no English equivalent: For example, fylleangst, which is the Norse term for the anxiety experienced by those who awaken badly hung-over and unable to recall what misdeeds they might have committed during the prior night's reverie, and forelsket, the euphoria experienced when first falling in love, to name just two.
Yet, if being forced to shoot the same film twice was challenging ("like having to catch lightning in a bottle, twice, in every scene," he explains), it also presented some benefits.
"We'd have a dialogue coach on the set working with us, and what we experienced actually, was that it had some advantages … We'd discover some sort of nuance in the English version. [But] humor is the most challenging aspect. Those were the most difficult things to translate into English: Comic tone, comic timing — that's something for which we brought in an English editor."
Academy rules prohibit the English-language version of Kon-Tiki from being marketed as an Oscar-nominated film. But if Kon-Tiki proves as big a hit here as it did in Scandinavia (and the Weinstein Company, who hopes to submit the English-language version for Best Picture eligibility next year, hopes that will be the case), film financiers and agents say it could more have more foreign filmmakers shooting with a "double-barreled" approach, i.e. one version for the home audience, one for English-speaking countries.
But that doesn't mean Rønning — who's currently at work on a period sci-fi drama for producer J.J. Abrams — wants to repeat the experience.
"It's not an ideal way of making a movie," he says. "It was the difference between making Kon-Tiki and not making Kon-Tiki, but I hope that we never have to do that again."