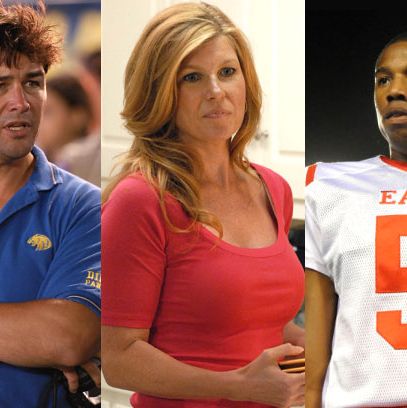 Two years ago this week, the last episode of Friday Night Lights aired and left us with misty eyes and full hearts. It also left much of its cast in the career catbird seat. Some took advantage of this and are still as coveted as Vince must've been by college recruits. Others, well, let's say they really would love another Friday Night Lights movie. Here is a power ranking of the cast members' current career positions — from Coach to Buddy Garrity and the Smashes and Landrys in between.
1. Kyle Chandler (Eric Taylor)
Since FNL Finale: Super 8, Argo, Zero Dark Thirty, Broken City
Upcoming Projects: Sundance fave The Spectacular Now, Martin Scorsese's The Wolf of Wall Street
Analysis: Though Chandler has yet to be top-billed or permitted to show much range beyond gruff authority, he is getting solid roles in good movies by very good directors — J.J. Abrams, Ben Affleck, Kathryn Bigelow, Scorsese. Eventually somebody will take a shot on him as a lead.

2. Connie Britton (Tami Taylor)
Since FNL Finale: Nashville, American Horror Story, Seeking a Friend for the End of the World, Ed Burns's The Fitzgerald Family Christmas
Upcoming Projects: Indie When Angels Sing, The To Do List with Aubrey Plaza
Analysis: Britton had a steady career before FNL, and that's still the case after. She'll probably never be No. 1, as some of her former co-stars continue to get big movie roles, but she'll always be near the top of the list for TV networks looking to cast dramas with a likable female lead with spark.

3. Taylor Kitsch (Tim Riggins)
Since FNL Finale: John Carter, Battleship, Savages
Upcoming Projects: Peter Berg's SEAL movie Lone Survivor, twee comedy The Grand Seduction
Analysis: No one is in greater danger of dropping a whole lotta spots here than Taylor Kitsch. Another terrible or underperforming film and Riggins is going to have a lot more time to drink beers on his farm. That being said, he scored three lead roles in three big films last year, and director Peter Berg is confident enough to take another chance on him with Lone Survivor, in which Kitsch will star alongside Mark Wahlberg as Navy SEALs who get ambushed during a covert mission in Afghanistan. The Grand Seduction (a remake of a Canadian film, in which a small town tries to convince a handsome doctor to stay as their resident M.D.) could allow him to show a lighter, fluffier side, though it will take a lot to make people think of the historically sleepy and broody Kitsch as a rom-com kinda guy.

4. Michael B. Jordan (Vince Howard)
Since FNL Finale: Parenthood, County (failed TV pilot), Red Tails, Chronicle, House M.D. episode, limited-release Hotel Noir
Upcoming Projects: Sundance award-winner Fruitvale, Are We Officially Dating? with Zac Efron
Analysis: A couple of months ago, Michael B. Jordan might've been four spots or so lower, but then Fruitvale absolutely owned Sundance, winning both the Grand Jury Prize and the Audience Award. With the Weinsteins now behind it, the film will surely get a major release and award buzz. Add that to a role starring opposite Efron and Vince is doing pretty damn well for himself.
5. Jesse Plemons (Landry Clarke)
Since FNL Finale: Paul, Childrens Hospital appearance, Battleship, Bent, The Master, Breaking Bad
Upcoming Projects: More Breaking Bad, and the Malcolm Gladwell–co-scripted TV pilot The Missionary
Analysis: Who would've guessed that Lance would be killing it like he's been doing? (Apparently killing that rapist in season two was useful.) A role in the upcoming HBO Cold War pilot The Missionary is just another solid part in a string of solid and diverse roles in both TV and film.

6. Scott Porter (Jason Street)
Since FNL Finale: Dear John, Syfy's Caprica, The Good Wife, 10 Years, Hart of Dixie, voicing Cyclops on the animated X-Men series
Upcoming Projects: The To Do List, with Connie Britton
Analysis: Street is doing okay ever since he rolled out of Dillon to the greener pastures of sports-agenting. An arc on The Good Wife and a starring role on CW's Hart of Dixie ain't too bad. A superhero obsessive, he was also on Marvel's short list for Captain America years back, which means he's definitely on people's radars. Or at least he was then.

7. Jurnee Smollett (Jess Merriweather)
Since FNL Finale: Bad Girls, The Mob Doctor
Upcoming Projects: Tyler Perry's Temptation, True Blood
Analysis: By the time she was cast on Friday Night Lights as Landry's and then Vince's girlfriend, Smollett had already been a working actor for nearly twenty years, which is ridiculous considering she was only 23. So she knows the ups and downs of an acting career. Sure, she hasn't been in many things since leaving the show, but she gets it done. She jumped a few spots with her recent True Blood casting.
8. Gaius Charles (Smash Williams)
Since FNL Finale: The Messenger, indie Toe to Toe, Salt, Takers, guest roles on Pan Am, NCIS, and Necessary Roughness, and a current run on Grey's Anatomy
Upcoming Projects: None, just more Grey's
Analysis: Charles has been off the show for a while now, which is why he's been able to knock out a lot of credits. Nothing too big, but Grey's is consistent work. We're just hoping for a guest turn on Smash. So meta.

9. Aimee Teegarden (Julie Taylor)
Since FNL Finale: Scream 4, Prom, straight-to-video horror movie Beneath the Darkness, web series Aim High, The Selection (failed TV pilot)
Upcoming Projects: Love and Honor with Liam Hemsworth, Life at These Speeds with Billy Crudup, The Curse of Downers Grove (co-writtten by Bret Easton Ellis), Oxygen (CW pilot)
Analysis: Teegarden was quick out of the gate with Scream 4 and the starring role in Prom, but things have slowed considerably. Then, last week, she got cast to star in the Oxygen pilot for the CW, in which she'll play a teenager who falls in love with an alien. It might not set the world on fire, but it's a step forward.
10. Adrianne Palicki (Tyra Collette)
Since FNL Finale: Elektra Luxx, Lone Star, Wonder Woman (failed pilot), Criminal Minds episode, indie Coffee Town, Red Dawn
Upcoming Projects: G.I. Joe: Retaliation
Analysis: Like Charles, Palicki has been off the show for a while and able to try a few things; unfortunately, the critically hailed Fox drama Lone Star was axed after two episodes, and her biggest starring role (her turn as Wonder Woman on TV) ended before it started — though that might have been a blessing. Still, her role as Lady Jaye in March's G.I. Joe sequel will at least get her face out there in something decently large. It co-stars the Rock, so it can't be all bad.
11. Zach Gilford (Matt Saracen)
Since FNL Finale: Quickly canceled dramas The Mob Doctor and Off the Map, Dane Cook drama Answers to Nothing, indies Crazy Kind of Love and In Our Nature, Arnold Schwarzenegger's The Last Stand
Upcoming Projects: None
Analysis: Trust us, we want him to be higher, too, but Seven just hasn't done anything exciting to tell his grandmother about. Also, the lack of upcoming projects isn't too heartening. These things could change a lot as pilot casting continues; he seems to be popular with network casting agents.
12. Minka Kelly (Lyla Garrity)
Since FNL Finale: Failed pilot True Love, The Roommate, Just Go With It, a run on Parenthood, Searching for Sonny, Charlie's Angels
Upcoming Projects: Lee Daniels's The Butler
Analysis: Things haven't really taken off for Minka Kelly. She fell into some trashy fare (which, as a young attractive actress, is likely her most common offer), though she did get rescued for a while by FNL showrunner Jason Katims to cleanse her palate on Parenthood for a while. However, she is playing Jackie Kennedy in The Butler, which goes a long way, assuming Daniels hasn't started a scene where Jackie O. pees on someone.

13. Matt Lauria (Luke Cafferty)
Since FNL Finale: The Chicago Code, failed Shonda Rimes pilot Gilded Lilys, and guest spots of varying length on Burn Notice, CSI, Person of Interest, Parenthood
Upcoming Projects: None
Analysis: He's been getting some TV work, but nothing particularly worthwhile, excluding Parenthood, courtesy of Katims.
14. Madison Burge (Becky Sproles)
Since FNL Finale: Golf drama Seven Days in Utopia, straight-to-cable Humans Versus Zombies, limited-released family-friendly rodeo movie Cowgirls n' Angels, guest roles on TV's The Lying Game and Southland
Upcoming Projects: Small productions Exists and Champion, dark drama The Loft, and rumored to be in a Ryan Gosling–Terrence Malick film shot in Austin
Analysis: Burge is getting a lot of work, but not much of it has been seen or seems particularly well funded. She is also one of the few cast members who has failed to get cast as a regular in a television series since FNL ended. Hopefully the Dark Castle release The Loft with Karl Urban gets some traction and that she actually proves to be in — and remains in the final cut of — Malick's film, or it could be back to beauty pageants.

15. Brad Leland (Buddy Garrity)
Since FNL Finale: Indie, Austin-shot The Bystander Theory, guest roles on Parks and Recreation and Veep
Upcoming Projects: French production Möbius with Jean Dujardin, indie Flutter
Analysis: Brad Leland was a character actor before Friday Night Lights, and he's returned to being a character actor since the show ended. He was great on Parks and Recreation, though!