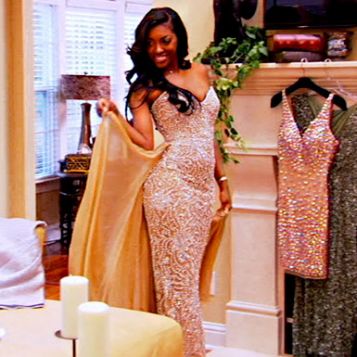 I'm so glad we're back, but I'm even more excited that we're moving away from Bootygate 2012 and into more serious matters like pageantry, potentially life-threatening illness, and the sweet tea/chopped corn combination Kandi was trying to turn into a Sunday meal. There was entirely too much Porsha in this episode, and I've reached a point where I might have to breach some of my feminist principles about avoiding snark in order to convey her strident idiocy.
Inside her gingerbread house deep in the Lollipop Woods of Candyland, Porsha is trying on dresses for Kordell's upcoming 40th-birthday party. Her sister, Lauren, and her mom, Tina Knowles, cheer her on as she flounces around in the blue version of the dress the Peaches n' Cream Barbie I owned in the 1985 used to wear. Tina Knowles thought she needed more cleavage, and Lauren reminded Porsha that Kordell is "very particular" about what she wears, so Porsha walked us through a showcase of her best dress selections from Rockette to Vanna White, giving us Kenya-twirling REALNESS the whole time. The way these two camera-hungry buffoons reinforced her delusions that any of these outfits fit with the chosen birthday theme of "Harlem Nights" explains how it was possible for Porsha to grow up with such a lack of perspective. She finally picked a dress that was "comportioned" to her waist, which is finally the mispronounced-word nail in the coffin that has sent my spell-checker to its grave.
Phaedra drags her bones up to Kandi's house in a candy-cane maxi dress, "feeling very Oprah today," which would be accurate if Oprah were the Ron Popeil of job searches. Kandi showcased her ability to slice corn off the cob and "take care of her family at home" while Phaedra revives the corpse of the Kenya mess at the Shoedazzle event, calling her a "lightweight" and even going so far as to say that Kenya is obsessed with Phaedra. Kenya might be a maniacal harpy, but she is only obsessed with revenge, marriage, and a possible revenge marriage (looking at you, next guy who is not Walter). Phaedra tries to play it off as if she is over the drama, but Kandi is quick to point out how different this tune sounds from the one she's been singing previously. Phaedra tries to deflect by busting on the drawers Kenya was wearing under her fishnet dress that night, calling out the fact that they "didn't have a satin finish" and looked like Victoria's Secret free-coupon underwear. I suppose that pointing out the brand name of someone's underwear is all you can say when the alternative is to own up to the fact that you've been spreading gossip about them all over town.

Poor Kenya brings her Aunt Lori along for a biopsy she is having on some lumps that her doctor — Dr. Speed, officially the most diabolical name ever — found during her annual mammogram. This was serious business and, I imagine, very scary, so I won't make fun of the way Kenya held the thermometer in her mouth like a baby or tried to cry around her fake eyelashes. She was scared, and they showed the entire biopsy from needle to vacuum (which was BRUTAL), so I feel like her tears were legit and she gets a pass this week.

With everyone so worn out from fighting and looking at Kenya's butt crack last week that they are not spending much time together, we're forced to AGAIN spend time with Porsha as she looks for a venue that will evoke the spirit of Harlem for this party. A perky blonde party planner named Tiffany naturally shows her a mansion on a plantation, because you can't get more Harlem in the twenties than stark reminders of segregation, slavery, lynching, and the complete absence of the high rises, tenements, and jazz clubs that set the scene of the Harlem Renaissance. Peter's (now defunct, R.I.P.) Supper Club or literally any bar in the Atlanta city limits would have been a better place to hold a party, but then Porsha wouldn't be able to prove to people that she found a way to fill her endless, vacant hours. Her sister Lauren stops by with their 1 1/2-year-old niece Jayden in order to prove that babies can be in proximity to Porsha without bursting into flame, and they tour the house to get a feel for important things like where the blackjack and craps tables should go. When Jayden starts fussing, Porsha grabs her, jostles her around like a sack of potatoes, and says, "This should work? This little bounce thing?" while the child SCREAMS herself into a grand mal seizure. Porsha keeps insisting that babies usually LOVE her while Jayden breaks her own neck trying to slither out of Porsha's arms.

Cynthia dons a forehead tiara and calls to order a meeting with her pageant team at the Bailey Agency School of Fashion House of Doughnuts. They were supposed to meet at Porsha's, but she does not want any strangers in her house, which goes over with Director Rodney, Mr. Couture Carlton, and Assistant Thurston Howell like a lead balloon. When Porsha gets there, the Bailey Boys are sure to give her some retaliatory ground rules, things like "We don't talk condescendingly, and we listen more than we speak." Porsha is uncomfortable with someone putting her directly in her place, so she saunters away to talk to take a call from her cleaning staff, leaving Cynthia to consider whether an alliance with Hosea Feed the Hungry and the Homeless and the Fishies in the Deep Blue Sea Foundation is actually a good idea.

After bossing around her house staff, Porsha pretends to play basketball with Kordell. They talk about the conversation she had at the Bailey Agency, and Kordell aggressively tells her to "handle that," not realizing that the thing needing handling was Porsha's inability to do the job she promised. He encourages her to have a heart-to-heart with Cynthia and employ his tactic of "guilty until proven innocent." SIT DOWN, Kordell. Why do the husbands of these housewives always feel like they have to stomp in and save the day? Your twittering lummox of a wife got herself into this mess, so let her get herself out. My grandma always says, "Don't let your mouth write a check that your ass can't cash," and even though that is rough advice to give a 4-year old, it stuck with me. Have all the seats, Kordell.

Kandi mercifully returns to the recording studio in a jean jacket with leather arms after her self-imposed hiatus as a result of moving into TWO HOUSES, ready to get down to business and back to singing. For some reason, she has to own up to her producing partner, Don, first about how being in love with Todd has made her "gain weight" and have a glow. Don decides that it's okay as long as "she's just gaining eatin' weight," forcing Kandi to declare that she is, in fact, not pregnant and taking birth control. None of this is anyone's business, Don! Don, go ahead and have a seat next to Kordell in Misogyny Alley.

Cynthia and Porsha meet at the Milk Bar from A Clockwork Orange, where it is decided that they are not going to work together on the pageant after all. Cynthia likes Porsha, but she doesn't know what work she's done, and they have a limited time frame with which to fleece beautiful young women of their hard-earned money, so she's decided to go ahead without her. This exchange is where I realize that I like Cynthia more when Peter is not around; she's a deceptive, shifty little snitch, but she also seems to be a strong businesswoman in the vein of Season One Lisa Wu. She hasn't won me over completely, but I like that she put Porsha on blast.

NeNe and Gregg appear in a very small moment to show us how terrible the cell-phone reception is in the Hollywood Hills and talk about each other's chests, but it only serves to remind us how much she is missed.

After numerous plugs for her old band Xscape, Kandi reveals to her studio crew that she wants to record a gospel album, causing the entire place to fall out laughing. She tried to convince them that a lot of R&B artists used to end their albums with one gospel song as the crew bricked her in with a wall of her own brand of dildos (safe for work), saying, "REALLY, Kandi? (Stack a dildo.) Really. (Box of fake vaginas.) Gospel. Really." But she is a nuanced individual who cannot be contained, so she went into the studio to sing about sadness, anger, and dark holes. Preach!

We're finally at Kordell's Harlem-on-a-plantation birthday party; there is a ubiquitous and nonsensical step-and-repeat, and the first conversation we're privy to is the one where Kordell declares, "Forty is the new 20, but only for men." He is a bag of macho garbage and looks like a thumb, so I was over the moon when Porsha sidled up to him to say that she was still "pretty per-terred" by her last conversation with Cynthia. Porsha is basically the Amanda Seyfried character in Mean Girls brought to life and relocated to Atlanta. I can't with these two anymore — they are, indeed, perfect for each other, and I hope their yam babies are raised by the nanny in order to give them a fighting chance. Kenya wasn't invited, but Walter shows up, telling Peter their relationship is officially over, which we knew when we watched them break up weeks ago. Peter and Kordell insist that Walter is still invited to anything they do, anytime; I cannot understand this outpouring of brotherly affection for a near stranger, but the camera flashed to someone playing poker with a pewter wizard, and I lost track of my thoughts.

Cynthia decides that she and Peter are just going to be friends with Kordell and Porsha, putting the kibosh on all business transactions until they get to know each other better, but Kordell still feels the need to work through the drama she has already resolved with Porsha. He keeps pushing Cynthia to get to a resolution, using what she calls his "Kordell-isms"; he misses the mark, trotting out weird, Bob Ross–style statements like "Everyone got their piece of the pie to create ruckus." Wha … what? Stop trying to be an armchair preacher, Kordell, and invest in a Hooked on Phonics set to share with Porsha before you spawn — a much better use of your time and money. He wants to know why Porsha and Cynthia "can't act right," and when Porsha forgives Cynthia, she convinces herself that "Kordell forced it."

Finally, Kenya and Aunt Lori head back to Dr. Speed's for the results of her biopsy, where she tells Kenya that she does not have cancer but a benign lesion that needs to be monitored every six months. That is legitimately good news, so let's be happy for Kenya and her low-key approach to this week. She may still live out her days Miss Havisham–style, but she'll live to twirl another day.

Next week, we get to see the pageant in full shitshow regalia, Kandi brings her Billy Dee–esque dad to the studio, and Porsha tries to steal a baby to prove that she can care for another living thing. See you then!