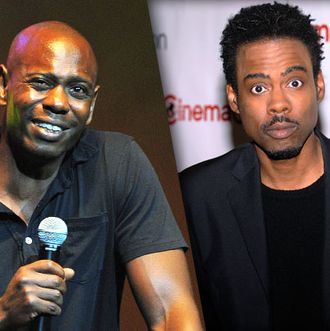 Photo: Corbis, Getty Images
The idea of Chris Rock and Dave Chappelle touring together, like a comedy version of Watch the Throne, has been dreamed of and rumored about for a while now. Last night, in a small New York comedy club, a handful of people might've seen the closest thing. As reported by the Comic's Comic, after midnight, unannounced, Dave Chappelle dropped by the Comedy Cellar (which you might know as the club from Louie) and did 45 minutes by himself. Right before he was going to end his set, Chris Rock joined him onstage for an hour. The two riffed about topics like Seth MacFarlane and Jay-Z's relationship with President Obama. Rock texted Jay-Z at 1:30 a.m., asking if he wanted to get spaghetti. When Jay didn't respond, they left voice mails for Arsenio Hall and Lenny Kravitz.
Most important, they discussed a potential tour, according to Comic's Comic:
"Come out to Oakland," Chappelle told Rock.

"You should come down to West Palm," Rock replied.

Chappelle: "After next Tuesday, I'm free for like 11 years."

Rock said he has a new movie of his own he's going to film later this spring, and would be cutting it over the summer. "I've got time between now and the movie," Rock told Chappelle onstage. "By Halloween, I could do dates."
Sounds good to us. We'll get our "Laughing Person at a Chris Rock and Dave Chappelle Comedy Show" costume ready.