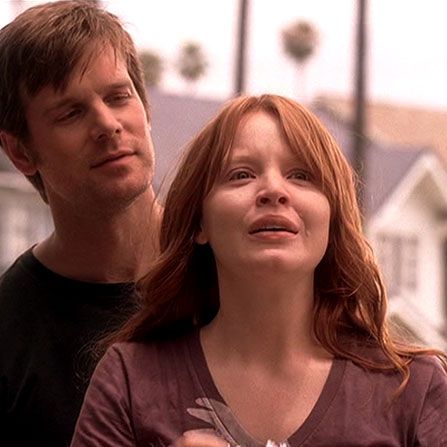 Seitz Asks: What's your favorite character death scene?
Seitz Answers: Every one in the final minutes of Six Feet Under.
A TV character's death is so inherently powerful that it's tough for a show to totally screw it up. We've lived with these people for years and gotten to feel as though we know them, so of course their passing will affect us, whether the event is tastefully underplayed (M*A*S*H's Colonel Henry Blake dying in an offscreen plane crash) or milked for shock value (Amanda Rosalind plunging into an elevator shaft on L.A. Law, for instance, or a certain Downton Abbey character dying violently this past Sunday).
That said, Six Feet Under's last seven minutes will always top my list of great TV death scenes. Granted, the HBO drama had a tear-generating advantage because it was built around death and fear of same, and its closing montage was a movable feast of morbidity, celebrating the passage of life before moving on to chronicle its inevitable end (complete with chyron "tombstones"). But still: What vision, what execution. Is this montage Claire's fantasy projection, a series of premonitions, or an elaborate flash-forward? We don't know, and the mystery amplifies the sequence's power (and dark humor — I love the scene of Old Billy seeming to bore Old Brenda to death). Aging, illness, decline, demise: smiles, tears, apparitions. After a minute or so, the piano in the soundtrack cue — "Breathe Me" by Sia — takes on the beautiful/dreadful quality of a tolling bell.
Please weigh in below. What's your favorite TV character death scene? (We can't control what TV character deaths are revealed by commenters, so proceed at your own peril.)