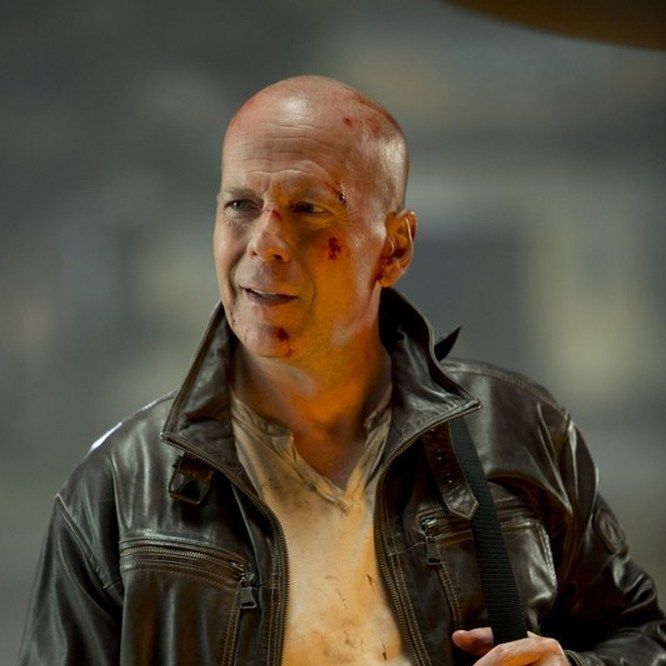 Photo: Twentieth Century Fox
Earlier this week, Head Vulture Josh Wolk and I got into an argument over whether Die Hard 3 (With a Vengeance) or Die Hard 4 (Live Free or … ) was the better film. I chose the former, because it is, and he chose the latter, because he likes … hacking? At any rate, no one will ever have that argument about Die Hard 5 (A Good Day to … ), because it is a terrible, terrible film. (Read our critic David Edelstein on the film here.) In addition to completing John McClane's transformation from everyman to superman (as we argue in this essay), it also turns him into a near-monosyllabic action hero. There is a bunch of dialogue where he talks about fatherhood and regret and stuff that is there to remind us that there are also people in this movie and not just helicopters, but much of Willis's speech looks like the following:
Get out of the truck!
We're not done talking!
Jack!
Jack!
Jesus!
Jack!
Hey!
Hey!
Hey! Hey! Hey!
Oo-oo-oo!
Come on!
That's it! That's what you got?!
Are you fucking kidding me?!
Do you think I understand a word you're saying?!
Jesus Christ!
Get out of the way!
Jesus!
Sorry!
Guess who?!
Hey!
Up here!
Hey!
Shoot up here!
What the fuck was that?!
Oh my Jesus!
Jerk-off!
Some fucking vacation!
Safe house, my ass!
This is nuts!
Come and get 'em!
Jesus Christ!
Holy shit!
Jesus!
Come on!
I'm on fucking vacation!
Yipee-ki-yay motherfucker.