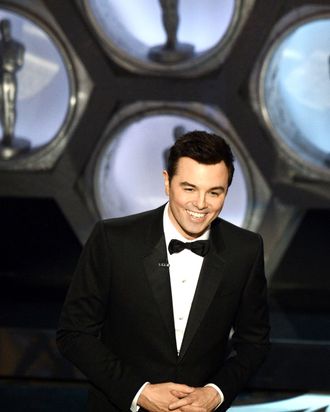 Host Seth MacFarlane speaks onstage during the Oscars held at the Dolby Theatre on February 24, 2013 in Hollywood, California.
Photo: Kevin Winter/Getty Images
Last night, when asked on Twitter if he'd ever host the Oscars again, Seth MacFarlane responded, "No way. Lotta fun to have done it, though." Despite a ratings uptick (especially among younger viewers), this is not surprising considering the very vocal negative response he received. Not to mention that he had been saying beforehand that he "really [thinks] this is a one-time thing for [him]." Well, you know, unless another actress shows her boobs in a movie — then he'll have to make a totally necessary triumphant return.