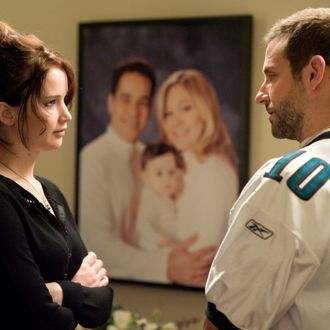 Jennifer Lawrence and Bradley Cooper in Silver Linings Playbook
Photo: JOJO WHILDEN/The Weinstein Company.
From the "now it can be told" files: Even though Hollywood more or less called the Oscar race over three weeks ago for Argo, Harvey Weinstein and his Silver Linings Playbook weren't going down without a fight. In fact, Vulture has learned that in order to help increase the profile of David O. Russell's Best Picture nominee, the Weinstein Company reached out to somebody who helped write the playbook for another recent big winner. He retained the counsel of Stephanie Cutter, a former top presidential aide and deputy campaign manager of Obama for America 2012.
Nobody announced her participation in the SLP campaign, and to the casual observer, she just seemed like another Beltway insider who just happened to be moved to frequently declare her love for the movie on Twitter, writing on February 14, "We're a little over a week away from Oscars. Check out the making of Silver Linings Playbook. Love this movie" (and then providing a link to the trailer). Or "Oscar week – who are you routing [sic] for?" with a link to an article about SLP a week later. And for a web extra Q&A for ABC's This Week, she was asked her favorite film. "We're in Oscar season so I'm gonna talk about my favorite film this year," she said. "My favorite is actually Silver Linings Playbook. That it's so real and identifiable to everybody in life."
With top rivals Lincoln and Zero Dark Thirty both having big political angles that resonated beyond Hollywood, our sources tell us that Cutter was hired to tout SLP not just as a well-made movie, but a culturally relevant and especially politically significant film that was shaping the national conversation about mental health triggered in part by the shootings in Newtown, Connecticut. Indeed, in the run-up to the Oscars, Silver Linings seemed to undertake a series of self-administered pats on the back "for making progress towards removing the stigma of mental illness," as proclaimed by a February Center for American Progress press conference featuring Silver Linings star and Best Actor Oscar nominee Bradley Cooper, along with two Democratic pols, Senator Debbie Stabenow of Michigan and former Representative Patrick Kennedy of Rhode Island.
Then, less than a week later, Cooper and his director, David O. Russell, met with Vice-President Joe Biden in his office, again to chat about mental-health reform. (Eventual Best Actress winner Jennifer Lawrence declined to attend the powwow, about which The Hollywood Reporter wrote, "Some have sneered it that was a Weinstein Co. move to garner gravitas for a film whose competitors are more easily tied to serious issues.")
An e-mail inquiry seeking comment from Cutter was not returned on Sunday, and while Weinstein himself declined to comment directly on Cutter's switch from political campaigning to Oscar campaigning, a Weinstein spokeswoman issued a statement that clearly sought to frame Cutter's involvement as an outgrowth of the political relevance of Silver Linings Playbook, rather than someone who was hired to promulgate and cultivate it: "When it was clear that Silver Linings Playbook's treatment of mental health issues was becoming a topic in the advocacy community and political circles," wrote a Weinstein Company spokeswoman, "Harvey Weinstein sought the advice of a number of friends with experience in those areas, including former Senator Chris Dodd, Senators Chuck Schumer and Kristen Gillibrand, and Stephanie Cutter, who he knows from his work as a supporter of President Obama."
Certainly, whatever Cutter's role was for Silver Linings, Weinstein had more than a few chits to call in with Team Obama, having raised a whopping $2.3 million for the president's reelection effort at a fund-raiser at his own Westport, Connecticut home last August, and perhaps just as crucially, having gotten the pro-Obama doc Seal Team Six: The Raid on Osama Bin Laden an airdate just two days before the U.S. presidential election last November. Maybe Weinstein should have spent the extra bucks and gotten David Axelrod?