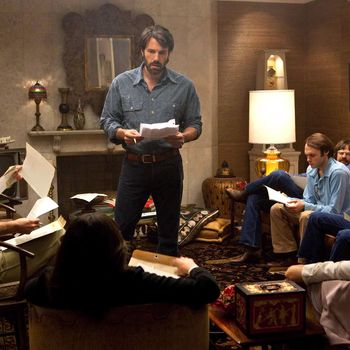 When the Oscar race first began in December, conventional wisdom had it that Best Picture would go to either Lincoln or Zero Dark Thirty. Thanks for playing, everyone else! One movie that was considered to have little to no chance at victory was Argo, especially after Ben Affleck didn't get a directing nomination. But as awards season has swanned along, Argo has showed surprising momentum, winning Golden Globes for Best Drama and Director, the SAG award for Best Ensemble, the DGA award for Best Director, and the Producers Guild award for Best Picture. We just checked in with top executives at major studios and Oscar consultants, and they said they were ready to call the Best Picture contest over, with Argo as the projected winner. How did this movie sneak its way to front-runner status? There are seven reasons.
1. Hollywood finds itself fascinating.
"I thought it was always going to be Argo," says one head of marketing at a studio who doesn't have a financial stake in the outcome, "because it's a movie that makes Hollywood seem far more important than it ever is thought to be or, for that matter, ever is. It's a movie for movie people."
While audiences can be lukewarm on movies about actors and show business, the Academy membership loves nominating them and often gives them the ultimate prize: Last year, The Artist's tale of old Hollywood hadn't cracked $40 million domestically by the time the Oscars were held, but it was still named Best Picture. In 2003, Chicago (showbiz and jazz hands!) won out over far more serious, somber dramas like The Hours, Gangs of New York, and The Pianist. And the aforementioned marketing chief theorizes that the reason The King's Speech won two years ago was because, while it wasn't about Hollywood, it was about learning how to play a role one is afraid to play, which strikes a chord with the Academy's acting branch.
There is one more example that undoubtedly gives chilling flashbacks to Steven Spielberg, his Lincoln no longer a safe front-runner: In 1999, his Saving Private Ryan was upset in the Best Picture race by yet another comedy about the business of entertainment: Shakespeare in Love, which co-starred — damn him! — Ben Affleck, playing an actor, no less.
2. It's like a Rocky for actors.
Argo is not just about movies saving the day, it also stars a strong ensemble of actors and was directed by an actor who stars in it. It's the ultimate PowerPoint for someone trying to make the case that actors are the most powerful force for good in the world — and did we mention that the 1,200 or so actors in the Academy make up its largest branch? (By comparison, directors in the Academy only number 370 or so, per one Oscar campaign pro.) "For Ben, it's a coronation," says a studio chief. His acting peers have already given Argo its SAG award, and because Affleck isn't nominated for Best Director (which usually goes hand in hand with Best Picture), much of the thespian bloc could see the Best Picture category as the finest way to honor their own. Meanwhile, the directing honor would likely go to Spielberg, repeating what happened in the Shakespeare in Love year.
3. It's a Rocky for producers too.
Late last month, Argo won the Producers Guild of America's top prize, and producers — some 450 of them — make up one of the more sizable branches of Academy voters. Many of them have been won over by the fact that Argo makes producing a studio movie look noble instead of the grinding hell-slog through ego and bile that it usually is. Plus, "its hero isn't just a producer but an older producer for whom the phone has kind of stopped ringing," says our marketing chief, laughing, "A lot of people in the Academy can relate to that."
4. Affleck's lack of a Best Director nomination was not the damning blow it was made out to be.
When Affleck's name wasn't read by Seth MacFarlane and Emma Stone on nomination morning, many interpreted it as a sign that the movie's chances at Best Picture were toast. (The last movie to take the top award without a directing nomination was 1989's Driving Miss Daisy.) It felt like an especially crushing blow because it scuttled the narrative of Affleck as comeback kid; if he couldn't get his own nomination, what chance did his movie have?
However, it wasn't nearly that bad an omen considering how strong the director roster was in a year with lots of popular and critical hits. As another marketing chief put it to me, "This year, there were easily six or even eight names you could put on the Best Director list. How is that a 'snub'?" With nine Best Picture nominees, someone had to get cut off; Kathryn Bigelow got left out, too. His absence likely wasn't a no-confidence vote by his behind-the-camera peers, considering that Affleck went on to win the DGA award. There's no way to know, but it's more likely that he was the victim of split voting by the Academy directors, and could even have come in a close-but-cigarless sixth in the nomination vote.
5. Good luck trying to out-charm Ben Affleck and George Clooney.
"The biggest job of an Oscar consultant is to get [Academy voters] to turn out at screenings," says one top consultant. "When there's a Q&A with someone you want to hang out with at one, it makes a difference. And Ben is so charming." Not to mention Clooney, who is a producer on the film.
"[Affleck] can suck up all the oxygen in the room," says another Oscar doctor, who adds that years of doing junkets and wooing the press as leading men make schmoozing a few hundred Academy altercockers a walk in the park for Affleck and Clooney.
"The Ben of it all — he's so fucking likable," mock-hisses this rival consultant. "He's like Clooney — our young Clooney," in that he's a great figurehead for Hollywood who also advocates for many of the liberal causes towards which showbiz types gravitate. "He speaks for us, fights for us. And he's comfortable doing so. I mean, Spielberg isn't going to have a party at his house or do an interview with The Tolucan [the local newspaper of the Burbank suburb, Toluca Lake]. As a result, [the quality of] the movie is almost inconsequential."
6. Argo plays well at home. Lincoln not so much.
Most Academy voters screen the major nominees on screeners sent to their houses, and "a movie like Lincoln doesn't play well on DVD," explains our first Oscar consultant. "I've heard that a lot: 'I am glad I went back to see it in the theater.' It can be a little boring, so they stop." Plus, most Academy members are too gainfully employed to have time to go to screenings; those tapped to join the Academy (in all fields) are usually well known, which means they're more in demand — as compared to the guild awards, in which all members vote, regardless of how much or little work they get. "[Academy members] all watch it on DVD, or at least a lot of them do. That's where Argo has the advantage."
7. Unlike Lincoln or Zero Dark Thirty, Argo is a largely unknown tale, saving it from scrutiny.
Zero Dark Thirty has been dogged by debate over whether it promoted or condoned torture. Lincoln, while generally praised for its historic accuracy, was just rebuked by Connecticut U.S. Representative Joe Courtney for depicting two of his state's early congressmen voting against the amendment to abolish slavery when, in fact, they did vote for it. (He wants it changed for the DVD, though he did note that "it shouldn't overshadow the fact that overall, this is a very strong and accurate portrayal of what actually happened.") ZDT's issue became a major divisive talking point about the film, while Lincoln's error wasn't nearly as compelling or visible a controversy. But it remains that any debates about a movie other than "Is it good?" are distractions. While Argo is also based on a true story, it has gotten away largely unscathed, mostly because it's a story with which no one was terribly familiar. With the exception of an October piece by Slate, there's been little concern about exposing inaccuracies, and even when pointed out, they are far less glaring for the public's lack of familiarity with actual events. "People have been so busy beating the shit out of Zero Dark, it's left Argo free to be the picture you could just enjoy," says our second consultant.
We will all ultimately find out on Oscar night (February 24), whether these theories will prove true and Argo emerges victorious. (And if you are swayed by these arguments, you might want to adjust your Vulture Oscar ballot accordingly.) But remember: Just as Argo emerged as a surprise favorite because voters can relate to it, there could be another shocking upset by another film because of its very personal appeal. "People love Silver Linings Playbook, so it shouldn't be counted out entirely," says our first consultant, adding that it has a big constituency: "Half of Hollywood is mentally ill."