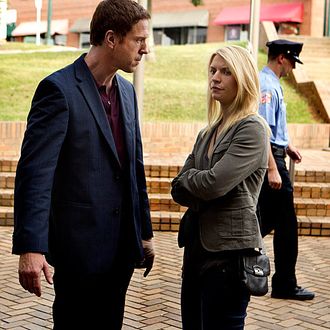 Photo: Kent Smith/Showtime
It's Sunday afternoon — your last chance to read all that stuff you meant to read last week before Monday brings a new deluge of things you will want to read. Below, some of our recommendations:
"Double Agents in Love" by Lorrie Moore (The New York Review of Books): On Homeland's problems.
"30 Rock: I Love This Dirty Sitcom" by Emily Nussbaum (The New Yorker): Paying tribute to a show that was one long, wonderful tribute to New York.
"Lucasfilm's Kathleen Kennedy on Star Wars, Lincoln and Secret J.J. Abrams Meetings" by Kim Masters (The Hollywood Reporter): The new Lucasfilm boss explains how she finally convinced the Star Trek director to follow the Force.
"The Spy Novelist Who Knows Too Much" by Robert F. Worth (The New York Times Magazine): A look at the work of Gérard de Villiers, the 83-year-old Frenchman whose popular pulp-fiction books are strikingly accurate.
"Sell Out" by Simon Rich (The New Yorker): A funny four-part (I, II, III, IV) story about Brooklyn, bad screenplays, and what your great-grandparents would think of your life.
For more in-depth weekend readings, visit our friends at Longreads.