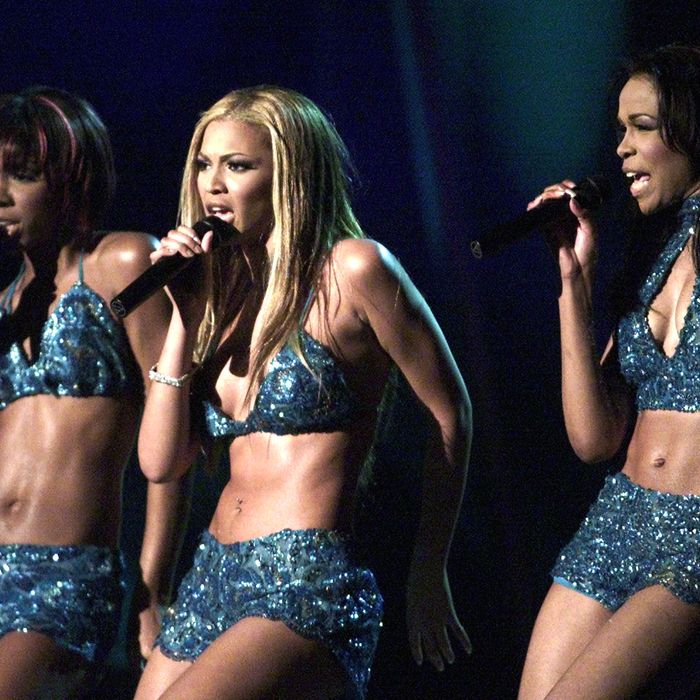 "Destiny's Child" perform their song "Say My Name" at the 43rd annual Grammy Awards in Los Angeles February 21, 2001. "Destiny's Child" won the Grammy Award for Best R&B Performance by a Duo or Group for the song.
Photo: Corbis/? Corbis. All Rights Reserved.
With heavy rumors swirling that the group will reunite during this year's Super Bowl halftime show, Destiny's Child is back in the nation's spotlight. Well … Beyoncé never really left, Kelly Rowland's not doing too shabby (her latest, Here I Am, was her highest debuting album), and Michelle Williams just joined the cast of Broadway's Fela! But whether or not all three ladies show up (as opposed to just a Beyoncé-led medley), we still have the music to remind us of the good ol' days, when harmonies went from four part to three, outfits matched perfectly without being identical (shout-out to Tina Knowles!), and Kelly Rowland rocked a pixie cut. Which are the 25 best Destiny's Child tracks? Listen to a Spotify playlist here. And read below to find out:
25. "With Me (Part 1)" (feat. Jermaine Dupri)
The only single worse than "With Me (Part 1)" is,is sadly, "With Me (Part 2)" — it featured Master P. Both songs are supposedly an "answer back" to Usher's "U Make Me Wanna," but you can't quite tell what's going on over P's signature "UHHHs."
24. "8 Days of Christmas"
You can't rank Destiny's Child songs without mentioning the trio's extensive Christmas work. "8 Days of Christmas" featured all the classics — even a "DC Christmas Medley" that shoved six traditionals into a rolling three-part harmony. But DC's contribution to the world of original Christmas songs, the album's title track, is a play off the "12 Days of Christmas" and reveals exactly what appeared under Beyoncé & Co.'s Christmas trees. Ready? A "pair of Chloé shades and a diamond belly ring," a "nice back rub and he massaged my feet, a cropped jacket with dirty denim jeans," a "poem that he wrote for me," a "candlelit dinner just me and my honey," a "gift certificate to get my favorite CDs," "the keys to a CLK Mercedes," and finally: "quality T-I-M-E."
23. "Get On the Bus" (feat. Timbaland)
Anyone who was anyone in the late nineties had to work with the Superfriends clique in one way or another. DC's "Get On the Bus" was recorded for the film Why Do Fools Fall in Love (starring Halle Berry and Vivica A. Fox!) and not only had beats full of bird noises from Timbaland, but the video was partially choreographed by Aaliyah.
22. "Nuclear"
This Pharrell-produced lead single (well, only single) off DC's latest compilation Love Songs just so happens to correspond with Beyoncé's Super Bowl performance and the release of her HBO documentary. Suspicious? Maybe. But "Nuclear" isn't bad. It's a throwback, if anything, and surprisingly low-key.
21. "If"
Hold up — is that Michelle leading off the track? Sure is. And with the way the girls' voices melt into each other, this lovely song could pass as a lost Supremes song.
20. "Is She the Reason"
A solid slow song off Destiny Fulfilled, perhaps the flipside to "Cater 2 U," where DC suspiciously questions their man's dedication over smooth horns and a rolling R&B beat.
19. "Nasty Girl"
A bit on the slut-shaming side for the normally empowered Destiny's Child gals, calling the track's protagonist "Nasty" and "Sleezy" for walking out her door "without some clothes on." And off the same album as "Independent Women (Part I)," no less!
18. "Game Over"
A bonus track off Destiny Fulfilled, "Game Over" is a mostly forgotten, sweet love song in which each girl gets a her chance to shine and Beyoncé lays out what we imagine to be Jay-Z's finest attributes: "He's my/ Best friend/ Perfect fit for a husband/ His swagger/ His confidence."
17. "Emotion"
By covering this Bee Gees song, DC proved that they could harmonize with the best trios of our time.
16. "Stand Up for Love" (2005 World Children's Day Anthem)
Technically DC's last single before Beyoncé released her solo track "Check Up on It," "Stand Up for Love" also took the sad honor of being their first single not to chart in the U.S. Yikes! But it was written by David Foster! And was the 2005 World Children's Day Anthem! Sorry, kids.
15. "Temptation"
Included on Love Songs, DC's kinda-sorta-maybe reunion album featuring a slew of romantic slow jams and one new single, "Temptation" was originally on The Writing's on the Wall and pulls in a charming interpolation of childrens' classic "This Old Man." Very sexy.
14. "Apple Pie À La Mode"
Buried between Survivor's bouncing singles (see: No. 12, No. 8, No. 3), "Apple Pie À La Mode" is a gem that tells the story of a romance through the analogy of sweets: "Sexy creation had his hat tilted to the side/ Starin' at me, had my nostrils open wide." You heard that right: nostrils.
13. "Lose My Breath"
Those sweaty drums you hear are sampled from a University of Michigan Marching Band drum line, and that weak bridge is … just Michelle.
12. "Survivor"
Arguably Destiny's catchiest, "Survivor's" earworm of a chorus repeats a whopping NINE TIMES throughout the song. No hate, though; I follow DC's anger management rules: "You know I'm not gon' diss you on the Internet/ 'Cause my mama taught me better than that."
11. "No, No, No (Part 2)" (feat. Wyclef Jean)
Destiny's Child is known for its part ones and part twos being completely different songs. This time, their first U.S. single, "No, No, No," was thankfully released as a Wyclef Jean–remixed part two because the part one sounds like it's been dragged underwater.
10. "Jumpin', Jumpin'"
"Jumpin', "Jumpin" shouldn't influence you to jump up and down at the club, but it does teach a good lesson about ditching your boo for the night for some good, clean(?) fun. Another thing worth noting: If the club is "jumpin' jumpin'" at 11:30 p.m., you're probably in Boston.
9. "Soldier" (feat. T.I. & Lil Wayne)
High up on the list, "Soldier" has a verse from Lil' Wayne wayyyy before he was the Weezy we know and love ("Call him, Weezy F baby, please say the baby") and features a very pregnant Solange Knowles (pre-"Losing You") at the end of the camouflage-heavy music video.
8. "Independent Women" (Part 1)
DC's contribution to the Charlie's Angels trilogy, and a song that proudly teaches us rhymes like "women"/"independent," "honies"/"money," and "mamas"/"dollas." It also teaches that the key to independence is financial security. And a movie soundtrack deal.
7. "Cater 2 U"
Probably the least feminist song of all of the Destiny's Child songs (whoops!), "Cater 2 U" is shamelessly doting and probably the best song ever to lyrically use the phrase "run your bathwater." Not to mention that Michelle kills it on the bridge. Go, Michelle!
6. "Bug a Boo"
A song that manages to be as perfectly relevant ("Don't call me I'll call you/ 'Cuz cupid ain't shoot me, he shot you") as it is amusingly dated ("Tell MCI to cut the phone poles/ Have AOL make my emails stop"). "Bug a Boo" is as fun as it is eye-opening. Dude, chill.
5. "Girl"
The music video for Destiny's Child's "Girl" is a cheesy play on HBO's Sex and the City, and despite knowing DC's shady history with sisterhood and membership, the song manages to give an accurate (and catchy!) portrayal of concerned women comforting their friend who's in denial about her own crappy relationship. Plus, if you can master this one in karaoke, you win the Destiny's Child Badge of Honor.
4. "Bills, Bills, Bills"
If The Destiny's Child Songbook reads like a how-to for the empowered female (and it often does), then "Bills, Bills, Bills" is Chapter Four: Finances. It's the story of a relationship turned sour because of overdue bill payments gone unpaid by a beau who got way too comfortable way too quickly. Turning the subject of boring car payments into "automo' bills" works perfectly over a track that may sound slightly silly now, but practically came from space when it was released onto the R&B charts in 1999.
3. "Bootylicious"
A Stevie Nicks sample ("Edge of Seventeen") bumps "Bootylicious" to the top, not to mention the song title's complete addition into English vernacular. Did you ever think Stevie, Bey, and Kurt Cobain could co-exist? Thanks to "Smells Like Bootylicious," they can.
2. "So Good"
The Destiny's Commandment "Thou shalt not hate" starts "So Good," an underrated single that leads off 1999's The Writing's on the Wall and puts haters firmly in their place. It's probably the finest Destiny's Child diss track of it's kind, perfect for anyone to adopt into their personal mantra: "And wasn't it you that said/ That I didn't look too good/ That I wouldn't do too good/ I'd never make it out the 'hood/ I want you to know that I'm doin' so good."
1. "Say My Name"
Is there any Destiny's Child song more Destiny's Child than "Say My Name"? From Darkchild's infamous tag to the unforgettable staccato of the closing "yeah-yeah-yeah-yeah-yeahs," the song fully embraces female suspicion and heavily foretells Beyoncé's ascension: She sings every verse.