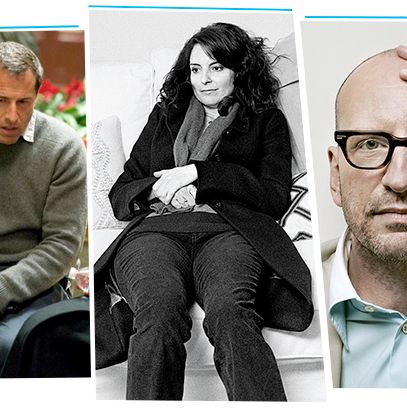 Photo: Getty and Contour/Getty
Every week, Vulture confronts the burning questions in entertainment — dons the necessary asbestos underwear, as it were, and leaps headlong into the flames to get you informed answers. This week, we delved into such pop cultural issues as: professional humiliation as the perfect comedic television trope, the economic impact of being 'Soderberghian,' the hidden benefits of not knowing what the hell people are talking about in a movie, and much more. In case you missed them, here are the still-white hot embers we retrieved we this week.
Q: How can I overcome the powerfully sad ennui that has gripped me ever since 30 Rock ended?
A: By reliving its final episode's greatest moments with us! For example: What were Lutz's and Pete Hornberger's favorite scenes to perform on 30 Rock? Both men interviewed each other by phone, and the results include mimicking near-ischemic events, and foot rubs. (Having a stroke, or stroking a foot? With a Tina Fey comedy, you never have to choose!) A show this meta can engender complex feelings. Our helpful, USA Today-style infographics can help visually decode the subtlety of its comedy, while our pictorial history of Jenna's trysts with Mickey Rourke will help you understand just was a sex grill looks like. It can also produce feelings of rage, which can be abated with our helpful (and patent-pending) Jack Donaghy insult generator. Finally, by understanding how our staff feels about it, you can better understand how you should feel about it, thanks to Matt Zoller Seitz.
Q: Just what is a 'parlay' and why does it define Silver Linings Playbook?
A: Even David O. Russell wasn't sure, but it sure is important, as you can tell.
Q: How will we know if Netflix's House of Cards was a success or failure?
A: Trick question: Netflix won't be releasing ratings data – but Josef Adalian thinks there are other ways to assess the Kevin Spacey political thriller.
Q: Speaking of, which of your favorite (but, clearly not everyone's favorite) TV series will get the guillotine?
A: Adalian employs his world-famous and very high-tech Bubble Meter, displaying the results in easy-to-absorb, slideshow format! (Hint: Mindy Kaling fans, feel free to start sweating – and start watching even more!)
Q: What are the rules for engagement if you have the great good-fortune run into Louis CK?
A: We have the exclusive video that tells you how not to leave disappointed from your brush with fame.
Q: How does Keri Russell feel about wearing Jordache jeans and pounds of masacara to gather Cold War intel on The Americans?
A: "I now feel like I'm missing something, and it's the glop."
Q: Is Mark Wahlberg's alleged Entourage movie just a practical joke?
A: Josh Wolk offers this meditation.
Q: Is The New Girl headed for a Moonlighting style disaster or Sam-and-Diane Cheers perfection?
A: Depends who you ask. Our resident hopeless romantic Margaret Lyons thinks not. Our heart-two-sizes-too-small editorial director fears a shark may be readying its pogo stick.
Q: I found myself disturbed, and yet oddly unable to stop thinking about the video torture booth / art installation on the last episode of Girls … Tell me more?
A: Sure thing – but we're not paying for your therapy.
Q: Disney's Cinderella redux – alive, or dead?
A: The dark, Mark Romanek version? Dead. But the movie? Alive! Thank Kenneth Branagh for that.