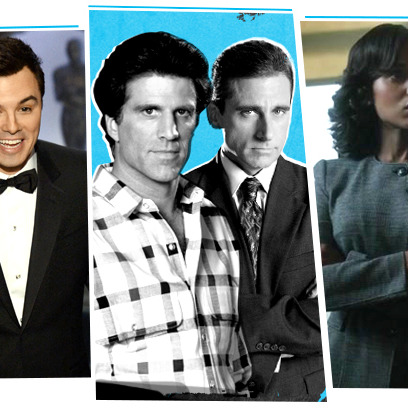 Every week, Vulture faces the big, important questions in entertainment, and comes to some creative conclusions. This week, we began a long search to determine the best sitcom of all time, asked why, exactly, Seth MacFarlane was so misogynistic at the Oscars, and talked with Enlightened's Mike White about why men won't watch shows about women. You may have read some of these stories below, but you certainly didn't read them all. We forgive you.
Q: How were the Oscars?
A: They — or Seth MacFarlane, at least — were misogynistic. But we loved it when Jennifer Lawrence fell down, and not in a mean way. The Fug Girls liked some of these dresses and disliked some others. Plenty more Oscar coverage here.
Q: What is the best sitcom of the past thirty years?
A: We are so glad you asked, since we have a whole bracket devoted to that very subject! The early matchups: Cheers vs. The Office, South Park vs. Arrested Development, and Friends vs. The Golden Girls. Read them all!
Q: Okay, but what are some other great sitcoms?
A: Please consult the Comedy Undercards, where we are revisiting classic comfort shows like Fresh Prince of Bel-Air, Family Matters, Boy Meets World and more.
Q: Is there any more sitcom stuff I should be aware of?
A: Here's Marc Cherry on writing for Golden Girls! And here's a list of every celebrity ever made fun of on South Park. We can go on! We will go on.
Q: Is the show Enlightened worth watching?
A: Why yes! Denise Martin had a long conversation with the show's creator, Mike White, who has been campaigning to save the beloved but under-watched series. And Margaret Lyons argued that its protagonist, played by Laura Dern, is currently TV's most tragic heroine.
Q: How can I dance like Thom Yorke?
A: Study this comprehensive guide to his arm-dance moves, and then practice. Practicing is a must.
Q: What does Scandal's Olivia Pope wear to work?
A: Lots and lots of suits. You can see every one of them (from the second season, anyway) in this slideshow.
Q: Okay, back to the Oscars (You didn't think we would let go that easy did you?), what are some names of potential Oscar hosts that haven't been mentioned ad nauseum?
A: Bill Murray, the Rock … yes, these sound a little crazy, but Kyle Buchanan's reasons are oh so logical.
Q: What are the best celebrity pictures from February 2013 magazines?
A: These are the best celebrity pictures from February 2013 magazines.
Q: How entertaining is it to watch author Jackie Collins play Vulture's "Name That Famous Shirtless Hunk Game"?
A: Extremely. Julie Klausner made that happen here.