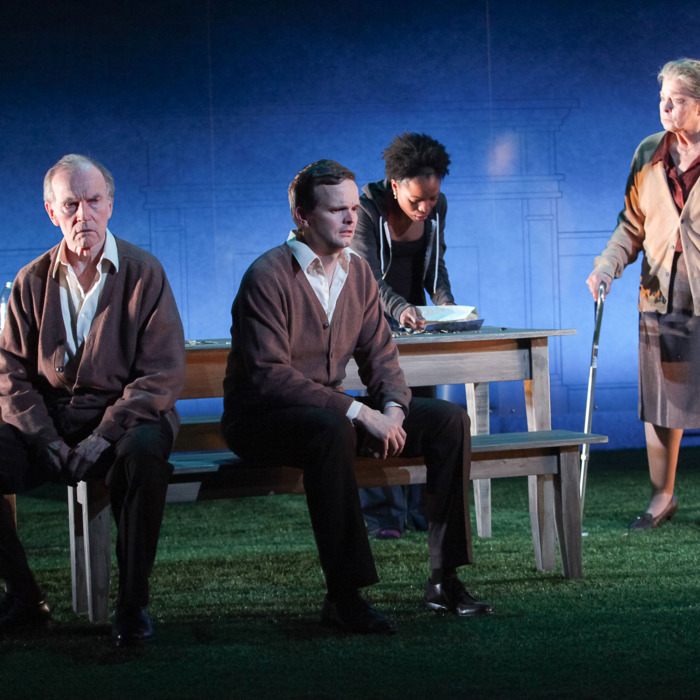 Luck of the Irish
So you thought one supremely discomfiting play about race and real estate — Clybourne Park — would settle the subject? Um, how long, exactly, have you lived in this country? A trend of creeping honesty about racial realpolitik means talented writers could conceivably crank out tales of red lines and white flight ad infinitum and never find the bottom. Really, what is America but race and class and real estate endlessly co-reifying? Rising playwright Kirsten Greenidge (Milk Like Sugar) grasps this as she rifles through old titles and deeds in Luck of the Irish, her ruminative, wildly frayed, always absorbing ghost story about "ghost-buyers," i.e. poor white folks paid by richer black folks to "ghost-buy" houses in racially exclusive neighborhoods on their behalf. It's a play about the force that binds us all together as Americans: inherited grievance and our near-evolutionary drive to redeem a debt, to get what's coming to us.
In Luck, skirmishes break out over faux-Waterford crystal, over Irish-step-dance classes, over frozen Sara Lee and plates of lettuce wraps at P.F. Chang's: The punier the battlefield, the more pivotal the battle. But after the battle — and here's where Greenidge displays the beginnings of real genius — we have to live with our victories, we have to face what we've won. That's the real war. Greenidge, with this messy and promising and thrillingly alive play, looks poised to be among that war's key generals.
Hannah (Marsha Stephanie Blake) just inherited her grandparents' house in a lily-white Boston suburb, where her family has long been "the only flies in the buttermilk." She's shocked when an elderly white neighbor, Mr. Donovan (Robert Hogan), arrives to inform her — with mysterious, stammering reluctance — that the original title on the house is in his name. Flash back to the late fifties, where Hannah's wealthy grandparents, the Taylors (Eisa Davis and Victor Williams), arrange a bargain with the struggling young Donovans (Amanda Quaid and Dashiell Eaves): The Donovans will take the Taylors' money, purchase the house under the nose of the neighborhood association, then hand it over, in return for a premium. (We can all see where this is going, and go there it most certainly does — even the "twist" isn't too twisty.)

The trouble comes when both parties start to question exactly what they're getting for their money: As Mrs. Taylor, the regal Davis makes her exquisite poise into a weapon of rage and grapples with the intrinsic insult of having to steal what's supposedly guaranteed to her under law. As Mrs. Donovan, an incendiary Amanda Quaid sets the stage aflame with grim dudgeon: Married to a sweet, shiftless dreamer (a condition Eaves embodies with shambling perfection) and juggling six of his children, she can't wrap her head around a social order that would advance the Taylors ahead of her struggling family. (The Davis/Quaid showdown — written with muscle and grace, directed to perfection, performed with expertly modulated adrenaline — is the high-water mark of the night.) "There's an order to things!" is Mrs. Donovan's increasingly pathetic mantra, and it's a testament to the skill of Quaid and director Rebecca Taichman that Mrs. Donovan doesn't devolve into an increasingly pathetic character. (She's both the play's secret weapon and its potential Achilles heel — more the former than the latter, thanks to the talents aboard.)

Meanwhile, in the present, Hannah's got her hands full with an ADHD son, whose problems, she suspects, stem from being the only black child in a white school: They call him "Sport," and Hannah has nightmares about encroaching tokenism. Her man's-man hubby, Rich (affable, squeezable Frank Harts), on the other hand, sees no problem that Pop Warner football wouldn't solve. Hannah's aimless singleton sister Nessa (Carra Patterson) is also hanging around: She's Hannah's best friend — and co-inheritor of the house, and there are emotional mini-quakes there which the play doesn't have quite enough time to survey and study. Luck is two and half fairly riveting hours, but it feels, in places, like an even longer, much more sprawling suburban epic abruptly manicured back to lawn-size. Patterson and Blake have great fun with Greenidge's sprightly dialogue (she has a lovely ear for the light palaver of middle-class malaise), but the Nessa/Hannah dynamic never completely stabilizes. Still, Greenidge succeeds in the suggestion of a vast, unstable world of untrustworthy privilege and gains that, even after generations, could erode in an instant. Mimi Lien's set is two clear plexiglass blueprints, hanging ominously over astroturf: It could all evanesce in seconds. Luck, with its specters of divestiture, feels suspended over a pit — the atmosphere achieved here is some of Taichman's finest work. I don't think Luck is Greenidge's masterpiece, but it points to startling things ahead. Buy in now.    

At Lincoln Center's Claire Tow Theatre through March 10.
The Good Person of Szechwan
Brecht's resonating fable — part Marxified folk tale, part Peking Opera, part satiric vortex — gets a vivid, funny, devastatingly great retelling from the Foundry Theatre, with drag artist Taylor Mac as the generous soul who finds her altruism incompatible with a cruel and commodified world … until she creates a ruthless, pinstriped alter ego to do her dirty work. Director Lear deBessonet (let's take a moment to just envy that name!) had a stroke of genius casting Mac, a disciplined and un-campy performer whose honesty and irony are so invisibly intertwined, we can react only with sympathy — even as Brecht's alienation effect pulls us in the opposite direction. (That tension is a constructive one, and deBessonet understands it better than most: There's no settling for mere po-facedness here.) But the highlights just keep coming: The delightful David Turner, as Wang the Waterseller, is a wonderfully untrustworthy emcee; playwright/performer Lisa Kron kills in a Whitman's sampler of dazzling supporting roles; Matt Saunders's cozily irreal cardboard-box fort of a set effectively collapses the literal-mindedness we brought in the door with us. And then there's the brand-new score by César Alvarez, always cooking, served up by Brooklyn indie-folk-rock combo the Lisps. American productions of Brecht generally range from the didactic to the impenetrable — "teaching theater" too often becomes children's theater, as if nobody knew the difference. This very good Good Person avoids that pitfall and many others, including the kind of Wes Anderson–ism you might suspect of a production that involves cardboard and indie-folk and winking self-awareness. We keep a healthy distance, we never mistake these archetypes for real people, yet we can't remain uninvolved.     

At LaMaMa's Ellen Stewart Theatre through February 24.

All in the Timing
You've no doubt seen this David Ives comedy-clinic performed by college groups and high-schoolers: His remarkably aerodynamic sketches — each one a carefully calibrated interruption of both the time-space continuum and the urban-loneliness continuum — are youth staples for a reason: They're "Far Side"-ish visions of adulthood, smart without being abstruse, clever without being snide or cynical, and romantic without being softheaded. Now Primary Stages and director John Rando (the ringmaster behind Urinetown) remind us just how platonically great AITT is, bringing professional-grade performers and pristine staging and pacing to bear on such classics as "Sure Thing" (where a man and woman, meeting not-so-cute in a café, get dozens and dozens of do-overs) and "Philip Glass Buys a Loaf of Bread" (a cyclical fugue of love, loss, and carbs). Rando extracts total commitment from his ensemble — including comedy power-hitter Jenn Harris (Silence!) and Starcatcher veterans Carson Elrod and Matthew Saldivar — and the spotlight is shared. Ives (Venus in Fur) has a mind as tidy as a just-opened chemistry set, and AITT is his test kitchen, a sterile environment for the fine molecular gastronomy of laff essentials. What's the intrinsic mechanism of a joke? What's the bare minimum to provoke an emotion? The miracle (and the craft) is in how material this smooth doesn't just shoot right through you, but sticks to your ribs even as it tickles 'em.   

At 59e59 Theaters through March 17.

This Clement World
Performance artist/musician Cynthia Hopkins does just about everything wrong in her multimedia docu-concert, a hard-to-classify cri de climate: She preaches thunderously to the choir, launches platitudinous neo-hippie broadsides at her presumed audience of Euroid native rapists, and trots out an anti-urban back-to-nature message that feels thawed out from 1973. (Hopkins's notions of urbanism-as-the-enemy seem like they crystallized circa Logan's Run.) The result is sometimes ghostly, sometimes silly, sometimes glorious, never predictable. And, incredibly, it all kinda works, annealed by Hopkins's passion, her self-laceration (non-spoiler: It's as much a show about her alcoholism as it is a show about our addiction to fossil fuels) and her extraordinary Bjorkestra-esque musical arrangements. (The tabernacle-size harmonies hit you like a wall of water.) Somehow, Hopkins even gets away with dressing up as an angry, mute Native American woman from Manhattan-by-way-of-the–Sand Creek Massacre of  Colorado, dressing us down with screaming video projections. We clap, call for more, and go home to discuss our nuanced reactions to being called rapists over home-delivered Indian food that arrives in seven separate unrecyclable hydrocarbon containers. Can a single tear melt a glacier? Could Hopkins lyrics be any more piercingly literal? How seriously are we supposed to take her redneck alien emissary character? And does any of it matter when her music is this bewitching and her visual wizardry so powerful? Reactions will vary, but Hopkins — in what she tells us is an epic attempt to escape the prison of Self — unleashes powerful forces from beneath the ice of digital stagecraft.    

At St. Ann's Warehouse through February 17.

Bunnicula
Ask yourself: What would happen if Charles Busch (Vampire Lesbians of Sodom, The Tale of the Allergist's Wife) wrote a kid's musical about a beloved vampire rabbit? Here, puny humans, is your answer. Warning: Bunnicula is FOR CHILDREN. Not "for children." And yet there's also a more-than-passable Jonathan Adler joke! And, somehow, a dog-in-drag number. Busch manages to have it all by attempting less in this likable babysitter of a show, which is best enjoyed in the raucous company of real kids, not grown-up camp-followers. True, the book feels a tad stretched out (and is — the book Bunnicula, for all its many charms, is a thin source text). And there's an odd undercurrent of woman-goading, if not outright misogyny. (Mom is a workaholic harpy; little-sister is a Twitter-happy fame-whore-in-the-making. Meanwhile, the menfolks are all adorably nerdy or charmingly detached.) But this isn't a story about people: The only characters who really matter are Chester, a cat (Prescott Seymour) who hates change, Harold (Robert Anthony Jones) a dog who's insecure, and Bunnicula, a mysterious new pet who may or may not be a tomato-draining veggie vampire. The latter is a puppet, and the first two are adorable — and, being adorable, are duly presented with a solidly composed best-friends song, which they sing they hell out of. Stick a vampire-rabbit fang in me, I'm done.

At the DR2 through April 14.