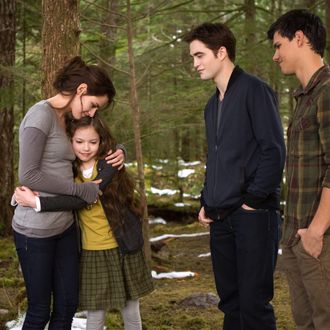 (L-R) KRISTEN STEWART, MACKENZIE FOY, ROBERT PATTINSON and TAYLOR LAUTNER star in THE TWILIGHT SAGA: BREAKING DAWN-PART 2 Ph: Andrew Cooper, SMPSP © 2011 Summit Entertainment, LLC. All rights reserved.
Photo: Andrew Cooper,SMPSP/Summit Entertainment
Tonight, we'll hear all about the year's best movies and actors, so let's take some time to consider the year's worst stuff, courtesy of the Razzie Awards. Twilight: Breaking Dawn — Part 2 was the clear (sort of) winner, taking home no fewer than seven spray-painted raspberry statuettes, including for Worst Picture, Worst Supporting Actor (Taylor Lautner), and Worst Actress (Kristen Stewart). Adam Sandler had two for That's My Boy, including Worst Actor. Worst Supporting Actress, meanwhile, went to Rihanna for her big-screen debut in Battlefield. Congratulations all!