Welcome to Vulture's Sitcom Smackdown, a bracket that will decide the best sitcom of the past 30 years. Each day, a different top writer (judges include authors A.J. Jacobs, Heather Havrilesky, and Steve Almond, The Shield and Terriers creator Shawn Ryan, and critic Ken Tucker) will determine the winner of one bracket battle, deliberating between two powerfully hilarious modern TV comedies that have reinvented the form in some way. The field will narrow until only two finalists remain on March 18, and New York Magazine TV critic Matt Zoller Seitz will determine the ultimate winner. Read our explanation of how we decided our sixteen comic contestants here, and follow the bracket below. We'll be updating it every day when a new winner is decided; simply click on the victor to read its judge's rationale. Don't agree with the decision? We're holding a shadow readers-poll bracket on our Facebook page: Make sure to visit there to register your own laughter preferences. And now to the battle!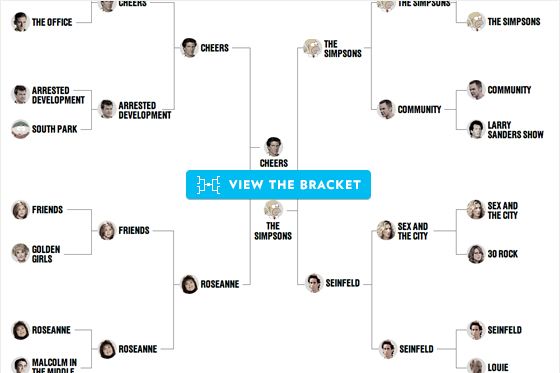 Previous decisions so far:
How did we pick our 16 contestants?
Round One: Cheers vs. The Office
Round One: Arrested Development vs. South Park
Round One: Friends vs. The Golden Girls
Round One: Roseanne vs. Malcolm in the Middle
Round One: The Cosby Show vs. The Simpsons
Round One: Community Vs. The Larry Sanders Show
Round One: Sex and the City vs. 30 Rock
Quarterfinals: Cheers vs. Arrested Development
Quarterfinals: Friends vs. Roseanne
Quarterfinals: Community vs. The Simpsons
Quarterfinals: Sex and the City vs. Seinfeld
Semifinals: Cheers vs. Roseanne
Semifinals: Seinfeld vs. The Simpsons