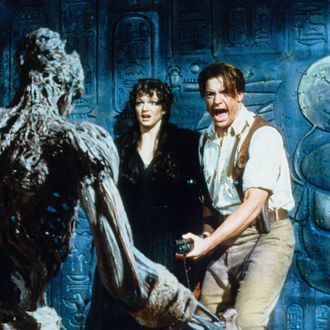 The summer of 2012 left a smoking crater in Universal Pictures' balance sheet thanks to Battleship, so it was no shock that the studio would look to reboot The Mummy, a proven franchise whose four films have grossed a combined $1.4 billion in worldwide box office. But what is surprising is how the studio is going about rebooting the project, which is being produced by Alex Kurtzman, Roberto Orci and Sean Daniel* and dircted by the Underworld franchise's Len Wiseman.

Vulture has learned that Universal's brass are so keen to make sure The Mummy doesn't unravel before its hoped-for summer 2014 release that they've taken the unusual step of hiring two different screenwriters to work on dueling Mummy scripts. It was already known that Jon Spaihts, who co-wrote Prometheus for director Ridley Scott, is hammering away on an update of The Mummy set in the present day. But what wasn't known is that The Hunger Games screenwriter Billy Ray has also been hired to craft a competitive Mummy draft, also set in contemporary society.
By hiring two screenwriters to work on competing Mummy projects at the same time, the studio believes it is effectively doubling its chances that it will at least have one Mummy script that's camera-ready by the late summer or early fall. "Studios don't shoot movies anymore," explains one Universal insider. "They shoot release dates."

But even if neither draft works out, the unusual approach might still bear fruit.

"My suspicion is that one of them will be a 'structure-and-body' man, and one's going to be a 'character-and-dialogue' man — and that they'll then just gang-bang them together into one script, crediting both writers," explains our insider, adding that this competitive screenwriting process is rarely used "because credit arbitration is usually a nightmare."

Why use it here then? Well, cui bono? Who benefits? Director Len Wiseman, most of all. Screenwriter Billy Ray, producers Kurtzman/Orci,* and Wiseman all share the same agent in CAA's Todd Feldman. But only Wiseman is coming off of a disastrous reboot — last summer's Total Recall, which is understood to have lost more than $50 million for Sony Pictures. The hire of a seasoned hand like Ray (whose credits include smart thrillers like Flightplan and State of Play) seems a move by CAA to stabilize the career of Wiseman and simultaneously reassure Universal executives.
*Correction: An earlier version of this story misidentified the producer of The Mummy reboot. It is Alex Kurtzman/Roberto Orci and Sean Daniel, not Joe Roth.