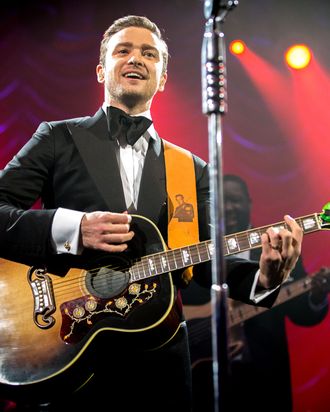 Justin Timberlake performed "Suit & Tie" at a bash at Mardi Gras World.
Photo: Christopher Polk/Getty Images
Many theories have been floating around New Orleans about what caused the power outage at Sunday's Super Bowl: the mafia, Vegas bookies, Beyoncé's hair dryer, voodoo. Here's another theory: It might have something to do with all of the city's electricity (and most of its booze) being sucked up by all the parties held the night before in Garden District mansions up and down New Orleans' St. Charles Avenue. At Michael Bay's soiree, an entire yard full of massive live oaks were illuminated with white and blue Christmas lights, like glowing Optimus Primes, while at GQ's party at the Elms mansion, a blue tent was ornamented by actual chandeliers and a sound system big enough to project Lil Wayne's performance so it could be heard several blocks away. All the better to illuminate the many celebrities who flew in for a weekend of partying. We spotted True Blood's Ryan Kwanten getting his first taste of the Big Easy: Even though his show is set in Louisiana, it's actually shot in L.A. "I'm back in a weird sense in the fact that I've actually never been here, but for the past six years, I've shot a show that's based here," said Kwanten. "So it's an initiation on two fronts. Sleep is not much of a priority, and I'm going to just absorb the madness that is New Orleans, the food, and the people." Besides, he said, he knows his way around a swamp from his days growing up in Australia, and he's got one part of the city's ethos well under his belt. "I'm Australian, so if there is a drink to be had … " Chace Crawford, also taking in the GQ mansion, had similar plans: "I'm am looking forward to sleeping in and maybe betting on the game so I can go through the 90-minute security checkpoint and start drinking beer."
At the same party was Hayden Panetierre, in sky-high neon-orange Louboutin peep-toe stilettos, having dual flashbacks to her Nashville character, Juliette Barnes, who dates a football player, and her own life, in which she actually dated former Jets wide receiver Scotty McKnight. She'd actually wondered if her TV character's football-player boyfriend, Sean Butler, who refuses premarital sex, was based on another Jet buddy of hers, Tim Tebow. "At least when I saw this character I kind of thought of Tim, but there are things that are very different," she said. "Tim is very well equipped to handle the locker-room humor as well as himself; he is a little more developed than [Sean]."

Though Panettiere's football connections run deep (she's been a lifelong Jets fan even before her relationship with McKnight, and played Coach Bill Yoast's daughter in Remember the Titans when she was 10), she only got invited to this party thanks to her relationship with a certain (fake) all-star coach's wife, her current co-star and Friday Night Lights alumnus Connie Britton. "I was in a cabin outside of Nashville with no cell reception, and Connie was supposed to present [at the NFL Honors awards ceremony that night] and she wasn't feeling well so she asked me to come in her place," said Panettiere. "I wasn't invited. She was. Really." It's all good. "I'm a Jets fan, but my buddy Patrick Willis is playing for the 49ers," Panettiere explained, so at least she had someone to root for. Not that she gets to see him. NFL players, she said, "are treated like children. There are times when they are on lockdown. It's wild to see someone that age in a hotel-slash-motel with security guards on every floor telling them they are not allowed to go anywhere. It's very difficult, it's hardest when you know they are so close but you can't get to them, you have no rights to them."

Over at another pop-up mansion party in the Garden District, sponsored by Samsung, Kate Walsh of Private Practice was pulling a Susan Sarandon, trying out for a second career as a celebrity ping-pong player. But unlike Sarandon, she proved admittedly terrible at the game. So she'll have to come up with another plan B with Private Practice over. "I think everyone knows I don't want to be a TV doctor anymore," she said of her future plans. But the next thing on her day planner was to attack the next day's tailgating. "If it was just me, I'd do wings. Wings are always it, man, I'm sorry. I'd go white trash, artichoke dip, you know, dips. And I'm always a fan of the French onion dip with Ruffles potato chips. You're welcome, Ruffles."

At that same party, Olivia Munn sat at a piano, filming Jamie Foxx's 40-plus-minute performance (with a brief guest appearance by Jennifer Hudson and the Preservation Hall Jazz Band as an opening act) atop a parquet dance floor covering a swimming pool. (The corporate sponsor did well co-opting all of the attendees: Munn was filming the performance with a Samsung phone, and Foxx actually sang, "Blame it on the Sam-su-su-sam-su-su-sam-su-su-ung.") All parties in the tony garden district ended, rather lamely, at 11 p.m. because of noise restrictions; we got a sense that Foxx would have played all night had the cops not shown up. As the streets emptied out, Solange Knowles was on her way to spin alongside Diplo at the Audi Forum event at the Ogden Museum of Southern Art. At the Windham Riverfront hotel (renamed the Bud Light Hotel, true to the Super Bowl sponsorship spirit), Bud Light ad star Stevie Wonder jammed with Gary Clark Jr. In a more industrial part of town, Jay-Z joined Justin Timberlake, who performed "Suit & Tie" off his upcoming album The 20/20 Experience in his first concert in five years (streamed by DirecTV) at Mardi Gras World (where all the floats are built).
Questlove was there, tweeting away (of JT, "Dude is KILLLIINNNNGGG it"). It was his rare offstage moment: He would end up playing seven gigs in 24 hours, three of which were with the Roots, who were also booked to play the 49ers party after the big game. We bumped into the band's emcee, Tariq "Black Thought" Trotter, on Sunday morning, and he was a little nervous about how the game was going to turn out, knowing from past experience how much less fun these things are when you're playing for the losing crowd. "We played the Eagles after-party in Jacksonville after they lost," he said. "That's our hometown team, and it just … it wasn't … it wasn't beautiful. It was what's to be expected of a pity party, you know. Some long faces."
In retrospect, the bad omens for the 49ers had already shown themselves. "One of the members of my band last night wore a brand-new pair of vintage Air Jordans and somehow wound up making it back to his hotel with dog poop on 'em," said Black Thought. "New Orleans festivals, and concerts in particular, are notoriously grimy and hard on the footwear." Which was why he was wearing disposable shoe protectors over his brand-new, hand-painted python Louboutin sneakers — the coolest shoes in the world worn the most uncool way. "I paid a pretty penny," he said, explaining himself. "They're not even on the market until the spring, so yeah, I'm trying to make them last." We hope the shoes lasted the weekend; two losses would be too heartbreaking.