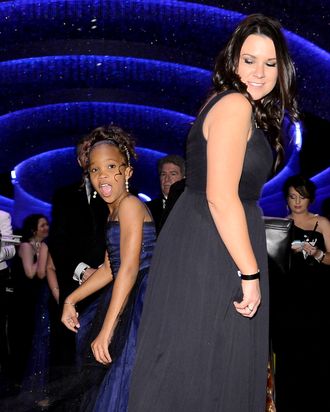 Quvenzhané Wallis.
Photo: Kevork Djansezian/Getty Images
We've fawned over the red-carpet looks, gushed over the Jennifer Lawrence fall, and raged over the Seth MacFarlane jokes. Now let's discuss what our team of L.A. reporters observed and overheard this weekend at four of the Oscars' biggest and booziest parties. (Yes, there was dancing.)
Friday: Women in Film Cocktail Party
5:48 p.m. Silver Linings Playbook nominee Jacki Weaver is relieved that awards season is almost over. "I get a bit sick of two-hour makeup calls," she tells us. "They are fun the first two times, but when you get up to the 98th one, you do get a bit fed up." Silver lining: She looks great.
6:52 p.m. Quvenzhané Wallis, who is wearing a fedora, carrying one of her signature dog purses and generally being the life of the party, takes a dance break to pose for a photo with Kate Walsh (at Walsh's request).
7:03 p.m. We spy a Help reunion: Viola Davis and Octavia Spencer talk about the film's director, Tate Taylor. "You remember when he had that snake, and he was trying to scare us with that snake?" Davis says. "We should call him and kick his behind!"
7:25 p.m. Spencer, the host of the evening, takes the stage. "If it weren't for so many women paving the way for a cute little black girl with weird teeth and a round body, I wouldn't be here and nobody would know who I am. I'm not Halle Berry. I tell people, 'I'm Barely Halle.'"
7:45 p.m. Fifteen minutes before the party ends, Daniel Radcliffe arrives and strikes up a conversation with David O. Russell. Russell takes an iPhone pic with the actor before they part ways.
7:55 p.m. Jessica Chastain arrives with her underwraps boyfriend Gian Luca Passi de Preposulo. They're having a conversation when, out of the corner of her eye, Chastain sees that Viola Davis and her husband, Julius, are about to leave. Chastain pauses the conversation, runs over to them, and gives them each a massive hug. Then she drags them back into the party to introduce them to her Italian man.
Saturday: Independent Spirit Awards
11:45 a.m. Uh-oh: Quvenzhané Wallis picks up a Balenciaga tote bag from the gifting lounge, and there's not even a picture of a puppy on it.
12:00 p.m. Inside the Mattel Games Lounge, Bryan Cranston approaches Rizzoli and Isles's Sharon Lawrence to tell her he's a fan.
1:49 p.m. Safety Not Guaranteed writer and Best First Screenplay winner Derek Connolly gives a rambling acceptance speech that goes on way too long — until Kerry Washington escorts him offstage.
1:57 p.m. Matthew McConaughey takes the stage: "Derek Connelly, way to take your time, dude."

2:10 p.m. Outside the main tent, Jason Bateman hugs Rashida Jones and says, "See you tonight!" Can we come?
3:30 p.m John Hawkes wins for Best Actor. Backstage, a reporter asks him if he's now less nervous about the Oscars. He's not nominated, so that was awkward.
Sunday: parties hosted by Elton John and Vanity Fair
4:45 p.m. Jim Carrey walks Elton John's red carpet as Big Foot. Literally.
 
5:20 p.m. Photographers swarm Nicki Minaj, and Chris Brown goes almost completely unnoticed.

6:16 p.m. A Liam-less Miley Cyrus arrives long after the ceremony has started. Poor thing missed the boob song.
 
6:30 p.m. Sports Illustrated model Jessica Perez ducks out during the Bond tribute to take photos with her iPhone … of herself.

8:37 p.m. On his way out, Bono gives kudos to Adele: "She's incredible."
  
10:23 p.m. Inside, Jared Harris pushes to the front of the crowd to watch Emeli Sandé perform. His dance move: a sophisticated head bop.

10:42 p.m. Lance Bass dances to Wonder smack in the center of the room. You can take the boy out of the boy band …

10:46 p.m. Girls actor Andrew Rannells does a double take as Lady Bunny exits the women's bathroom.
 
10:54 p.m. Nicole Richie walks around sandwiched between the two Madden brothers.
 
10:56 p.m. "You look great; you're a brunette now, girl!" Elton John says to a dazed Britney Spears, giving her a hug and a kiss on each cheek.

11:47 p.m. The Vanity Fair party is at full swing, but Penny Marshall is leaving, descending the front steps carefully with an In-N-Out burger in hand.

11:54 p.m. Conan O'Brien and Russell Brand are cracking each other up. Behind them, another unusually tall talk-show host ambles by: Bill O'Reilly, a surprising six foot four.

11:56 p.m. Two years ago, Selena Gomez took her relationship with Justin Bieber public at this very party, but now that they're broken up (at least this week), she's here flying solo, with only her minder as a date.

11:58 p.m. The most romantic moment of the night comes from Tommy Lee Jones, of all people. He's holding up an In-N-Out burger for his wife Dawn to graze on, while looking at her lovingly. She's literally eating out of the palm of his hand right now.

12:02 a.m. Joshua Jackson puts his arm around Don Johnson, drawing the Django Unchained star in for a joke.

12:04 a.m. Who is Mindy Kaling hanging out with here? Did you even need us to tell you that it's B.J. Novak?

12:06 a.m. Melissa McCarthy attempts to make her way through the crowd, but the train of her dress is begging to be stepped on. Luckily, husband Ben Falcone sets down his drink and rushes to her aid.

12:10 a.m Hilary Swank and Quentin Tarantino are deep in conversation, which she punctuates by clinking their Champagne flutes together.

12:15 a.m. You might miss her in the crowd, but the awfully tiny Mary-Kate Olsen is standing next to Michael Douglas at one of the banquettes, surveying the room with a satisfied sip of her drink.

12:16 a.m. Emile Hirsch extends an arm to try to pull someone through the crowd toward him … and it's Taylor Lautner.

12:18 a.m. Snubbed Les Misérables director Tom Hooper looks awfully dour, you guys.

12:21 a.m. Salma Hayek is hanging out with her megabillionaire husband Francois Pinault (who looks sort of Daniel Craig–y in person); as Gael Garcia Bernal arrives to meet them, Pinault gives him a kiss on each cheek. So French.

12:22 a.m. Martin Landau lounges on a couch, his cane lolling between his legs. Next to him, a young and beautiful blonde whispers into his ear.

12:25 a.m. Victor Garber is talking to Martin Short, and we can take the time to confirm something before the night is up: Yes, Internet, Victor Garber's husband is fucking hot as balls.