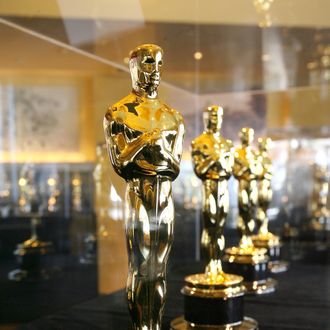 Photo: VALERIE MACON/AFP/Getty Images
Are you ready for the Oscars? Whether you're flying solo or watching with a big group, Vulture has plenty of coverage planned Sunday that you won't want to miss, beginning with a Fug Girls live-blog of the red carpet starting at 6 p.m., followed by their comprehensive rundown of the high-fashion hits and misses. Then, when the actual ceremony begins at 8:30, New York magazine film critic David Edelstein will live-blog it for us on Vulture while our other writers tweet their take on the proceedings via our Twitter account. "That's enough!" you say. "The human body cannot withstand this much fantastic coverage!" Oh, can't it?
As you see, our home page has been transformed into a full-throttle Oscar experience, highlighting our interviews with the nominees and our other in-depth coverage of the horse race. And as soon as the show begins, if you've already filled out your Oscar ballot (it's not too late to do so!) and logged into the site, your ballot will be updated in real time as the wins come in. Did you guess the trophy-takers correctly, and did you manage to out-predict your fellow readers (and us)? You'll know as soon as the winners' names are read! Don't forget: One reader who picks the most wins will take home $500, in addition to some pretty potent bragging rights. Might want to ready your acceptance speech, just in case.