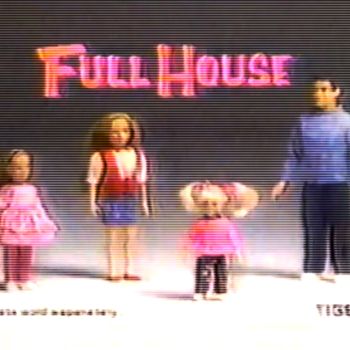 It used to be that you had to dig out a bin of old clothes, photo albums, and diaries to truly remember just how silly an earlier era was. Now forgotten fashions, celebrities, and trends are just a YouTube search away — and no matter how much you think you remember of, say, the eighties or nineties, it's always a shock to be confronted with the fact that pop culture was even more delightfully silly than you'd recalled. I recently spelunked down into a YouTube wormhole and returned with five videos that make the eighties and nineties feel like a fever dream. Click on for a creepy TV special from the Playboy Mansion (with leering host Richard Dawson and the Village People!), an ad for Full House dolls, and a game-show moment Alec Baldwin would likely want scrubbed off the Internet. Off we go into the not-as-way-back-as-you'd-think machine!
Playboy's Roller-Disco Pajama Party (1979)
This special, which ABC aired the Saturday after Thanksgiving, captures the last days of disco as well as any documentary. You've got your Playmates on roller skates, the Village People desperately trying to extend their fifteen minutes with "Ready for the 80s," ventriloquist and variety-show staple Wayland Flowers with both Madame and a borderline offensive black puppet, and, of course, many shots of Hef grooving to tunes from Donna Summer and other mirror-ball standards. We're pretty sure 9-year-old Paul Thomas Anderson was watching this when it aired, storing up inspiration for Boogie Nights. (If you want more, including James Caan on skates, the Shock Cinema magazine YouTube channel has also posted parts two, three, and four).
Get High on Yourself (1981)
This NBC promo touts the network's anti-drug spectacular Get High on Yourself and promises "the singing of Dr. J and Magic Johnson and lessons in life for the kids from Burt Reynolds." As if that weren't enough, we get glimpses of Ted Nugent (when he was actually slightly musically relevant), John Travolta and Olivia Newton-John in their post-Grease phase, and a rare shot of Hervé Villechaize not wearing his man-servant uniform from Fantasy Island. Sadly, we couldn't find the full special on YouTube, but here's the "We Are the World"-like celebrity song that also served as a PSA. (Warning one: It will stay in your head for weeks. Warning Two: It sounds like they dubbed over Paul Newman's singing voice and replaced it with The Silence of the Lambs' Buffalo Bill's.)
Alec Baldwin on Hollywood Squares (2002)
This video is barely ten years old, and yet it still feels horribly outdated: It's video proof that Alec Baldwin once actually agreed to a role as a recurring center square on the syndicated version of Hollywood Squares. Really. (It was during his aimless Thomas the Tank Engine–Along Came Polly years.) He'd appear for weeks at a time, throwing off innuendo-laden jokes alongside the likes of Joan Rivers, Dom DeLuise, and Baba Booey. (This after Whoopi Goldberg had left as permanent center square.) If he looks embarrassed to be there, well … it's quite possible that he was, especially during the "let's party!" opening credits. (The fact that his appearances helped generate income for charity likely eased the pain … a little). This was all just four years before Tina Fey and Lorne Michaels would give Baldwin the role of a lifetime in 30 Rock.
TV Commercial for Full House Dolls (circa 1993)
Kids, did I ever tell you about the time children actually played with Bob Saget dolls? Here's proof that they did, back in the days when Full House ruled Fridays and the Olsen Twins were still (relatively) innocent. Note how lifelike the dolls are: Danny's even wearing a sweater! Sadly, Jesse's family is sold separately.
Parker Lewis Meets 90210 (1991)
Even if you don't recall the early Fox sitcom Parker Lewis Can't Lose (in which a Ferris Bueller–like teen's every move was accented by loud sound effects and fish-eye-lens shots, the kind that would later find more success on Malcolm in the Middle), this promo for the show's second season premiere is worth watching for the spot-on parody of the original Beverly Hills, 90210 credits — and a surprise cameo at the end. It's actually far superior to what passes for "funny," high-concept promos these days.