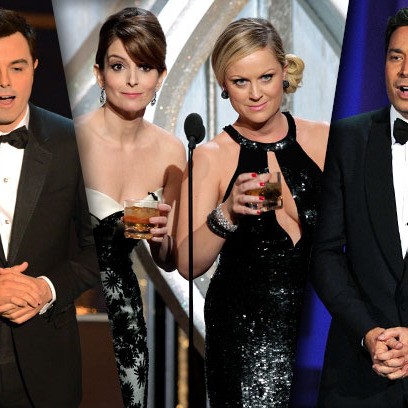 Why did the Academy hire Seth MacFarlane to host the Oscars? Reactions to his emcee gig have been sharply divided; though the Family Guy creator drew an elusive younger demographic to the broadcast, many have taken MacFarlane to task for his controversial sense of humor. But on paper, at least, this is a choice that could have worked. To understand why, it's important to note that awards-show hosts tend to fall into three distinct categories: the Genial Song-and-Dance Man, the Deadpan Wit, and the Bomb-Thrower. MacFarlane is the sort of talent that could have conceivably played any of those roles … but did he bite off more than he could chew by attempting all three at once? Let's look at hosting history to see how he stacked up.
The Genial Song-and-Dance Man
Who's Done It Before: If you start your monologue by breaking into song, you're a Genial Song-and-Dance Man. Obviously, Billy Crystal is the grandaddy of this category with his movie medleys, but Oscar host Hugh Jackman and Emmy host Jimmy Fallon both started their terrific awards shows with an energetic musical number, and Neil Patrick Harris excels at this sort of thing whenever he hosts the Tonys. Friendly to a fault, this is the kind of host who lobs only the softest and most innocuous of zingers.
How MacFarlane Did It: It was a given that MacFarlane would sing, since he's a Grammy nominee who put out a big-band album in 2011 (look it up!). What was surprising is just how much of it he did on Sunday: There was his controversial "we saw your boobs" number, the dance routine with Daniel Radcliffe and Joseph Gordon-Levitt, the closing number with Kristin Chenoweth … add those to the musical moments from Adele, Shirley Bassey, Jennifer Hudson, the casts of Les Miz and Chicago, as well as that pas de deux between Channing Tatum and Charlize Theron, and it began to feel like an awards show more dedicated to music than movies. When it came to MacFarlane's routine, he was at least 40 percent Song-and-Dance Man.
The Deadpan Wit
Who's Done It Before: If you're renowned for your dry delivery, the sort of comedian revered by other comics, then you're a Deadpan Wit. Three-time Oscar host Steve Martin is a good example of the type; when he was paired with Alec Baldwin for the 2010 show, it was a Deadpan Wit double-down. More recently, Tina Fey and Amy Poehler set the high-water mark in the category with their flawless Golden Globes stint. This sort of emcee tends to host the smoothest show, since you can count on a good monologue and some clever ad-libs throughout. And while the Deadpan Wit will occasionally razz an audience member — say, when Steve Martin made a joke about Meryl Streep's love of Hitler memorabilia — the quip is usually absurd and delivered with a knowing, smart-comedy wink.
How MacFarlane Did It: MaFarlane did appear deadpan throughout the telecast, but mostly because he seemed so stiff. His monologue was absurd, but not in a witty way; the appearance of William Shatner was simply a random, disconnected cutaway on the level of your usual Family Guy gag. If it weren't for that clever Sound of Music joke later in the broadcast — the sort of routine we could see Tina Fey doing and nailing, too — he wouldn't even rate as 10 percent Deadpan Wit.
The Bomb-Thrower
Who's Done It Before: If you use your monologue to take no prisoners, roasting stars by name, then you're a Bomb-Thrower. Obviously, Ricky Gervais was a notorious Bomb-Thrower in each of his Golden Globe stints, while Chris Rock famously burned Jude Law on the Oscar stage in 2005. MTV frequently hires Bomb-Throwers like Russell Brand and Chelsea Handler to host its awards shows.
How MacFarlane Did It: MacFarlane tried to ameliorate his material by enlisting stars like Sally Field and Jennifer Lawrence to be in on his jokes, but he was still tossing bombs right and left, whether he was roasting last year's winner Jean Dujardin or making incendiary comments about women, black people, and Armenians. Long after viewers have forgotten that Sound of Music joke or MacFarlane's superfluous musical numbers, they'll still be debating whether his comic material went too far, and for that, he was 50 percent Bomb-Thrower.
It's important to note that an effective awards-show host can sometimes straddle two of these categories: For example, Neil Patrick Harris is a Song-and-Dance major with a Deadpan Wit minor, while Tina Fey and Amy Poehler threw a couple of bombs of their own (that James Cameron torture joke was ten times as biting as anything MacFarlane said at the Oscars, but Poehler effectively cloaked it in her Deadpan Wit). But if you mix and match too much, it can be trouble; Oscar host Anne Hathaway could have been a decent Song-and-Dance Woman on her own, but coupled with James Franco (who was aiming haphazardly for Deadpan Wit) and served by subpar material, the two clashed terribly.
The notion of the ideal Oscar host is an elusive thing nowadays, especially after an awards season where Fey and Poehler turned in a classy, Oscar-ish set at the Golden Globes, while Oscar hire MacFarlane felt more like the lesser-known, scandal-generating TV guy that the Globes would usually go for. But if the Academy wants to make the best pick it can next year, they ought to choose a host who can do either Song-and-Dance Man, Deadpan Wit, or Bomb-Thrower better than anyone else, instead of a host like MacFarlane who makes awkward attempts to marry all of those types together without of mastering any of them.