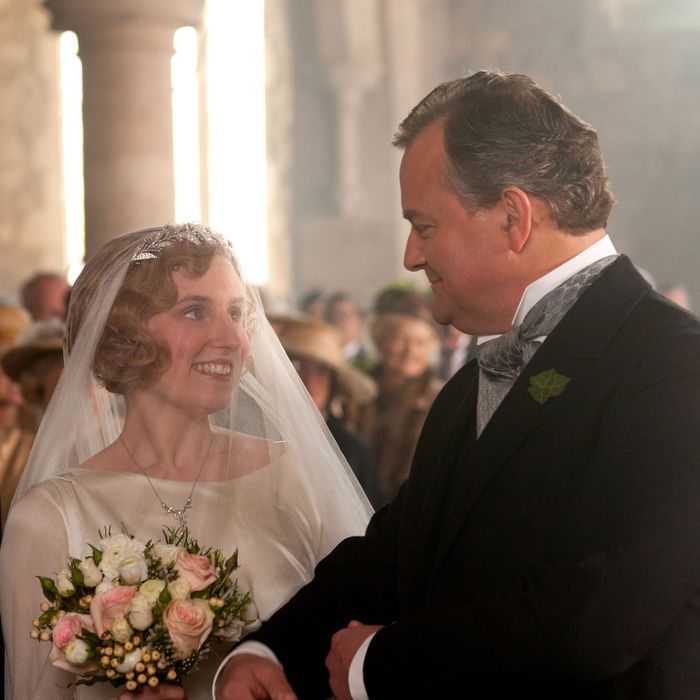 Downton Abbey Season 3 - Sundays, January 6 - February 17, 2013 on MASTERPIECE on PBS - Part 7
Photo: Joss Barratt/Carnival Film & Television Limited
It wasn't easy for Downton Abbey addicts to avoid spoilers this season (and for addicts tardy to Sunday's season finale, there are spoilers in this post). As the costume drama's popularity exploded, PBS's delayed U.S. broadcast of the show — airing it four months after it first aired in the U.K — made it difficult to dodge key plot points in advance, whether fans couldn't resist prowling British recaps or their Google alerts accidentally revealed that Dan Stevens was leaving the show, which made it pretty obvious that Matthew would die.
But this would be so easy to fix! clamor fans. Just air the show in the U.S. at the same time it airs in the U.K., and then we can all be shocked together when Edith gets married for real next time. Vulture got PBS's chief programming executive-general manager Beth Hoppe on the phone to inquire about the possibility. She gave us the good news first: Executives are "absolutely considering" a simultaneous broadcast. But as our conversation went on, the more it became clear that it is unlikely, because there just isn't any upside for PBS. Here's how Hoppe explained things:
Spoilerphobes may have been mad, but they still watched.
Back in December, the Internet flooded with tears after online headlines spoiled Matthew's demise. But it's impossible to quantify the actual percentage of Downton viewers who had the story ruined for them, and Hoppe says the fan feedback hasn't been that bad. What's more, viewers don't appear to have abandoned the show as a result. "There is a little bit of negative buzz around the spoilers, but it's pretty minimal from what we're hearing," Hoppe says, pointing to the ratings, which are ginormous. PBS says the third season of Downton is averaging more than 11 million viewers per episode (when you factor in the premiere plus seven days of DVR viewing). That's 420 percent above the public broadcaster's average prime-time rating and double the average viewership of the show's second season. By far, it is the most-watched program in PBS history. "That kind of success is hard to argue with," she says. It's also worth noting that Sybil's episode-five death didn't become headline news in the U.S. the way Matthew's did, proving that some secrets make it to the U.S. intact.
Marketing Downton in the fall would be more difficult.
Premiering in the fall isn't an obstacle in and of itself — "We're not scheduled so far out that we don't have flexibility," Hoppe says — but having to break through the marketing clutter does give PBS executives pause. In September, new shows from CBS, ABC, Fox, and NBC will be fighting for attention, marketed by networks that can handily outspend PBS. The TV landscape in January is always a little quieter, with fewer mid-season replacements competing for noise. A concurrent fall broadcast would also mean needing the Downton actors to help promote the show in the U.S. when they're also doing so in the U.K. (And as the show has become more popular, the cast has been busier with other projects.) "In December, we've been able to have the cast available for promotion. They were the toast of the town in New York and L.A., and that kind of thing might not be possible if we decided to move it earlier," says Hoppe.
At the same time, one could argue that The Walking Dead has demonstrated that some shows can go up against the broadcasters in fall and win. "Sure," Hope agrees, "you could spin that argument and say, 'Well, it's so hot, it'll be hot wherever you put it.'" The question for PBS becomes: Why mess with what's working in January? Downton has been an established hit there for three seasons and is now a proven alternative to the Super Bowl.
Editing episodes for PBS more quickly would also be more costly. 
The version of Downton that airs in the U.K. is slightly different than the one that airs in the U.S. ITV is a commercial network that ran season three over eight installments, while commercial-free PBS ran the same season in just six. That requires some "stitching together and filling out" for the American version, Hoppe says. And because the editing is done entirely by the creative team in the U.K., "what it would mean in order for us to go simultaneously with them is that we'd have to have two editing rooms going at the same time during postproduction, one for our version and one for theirs," Hoppe says. "It's not one of the main factors in the decision, but it's not an insignificant financial implication."
While the show's producers are for simultaneous airing, PBS has the final say. 
Downton Abbey executive producer Gareth Neame told Vulture in December that he, too, wished U.S. audiences could share in the first viewing. "In this day and age, it's clearly ridiculous that people watch the show in England four months early and 1.5 million people in America go and watch it illegally," he said. "If I were PBS and I had the biggest drama I'd ever had in my entire 40-year history, I would be sorting my schedules out to make sure I was airing it more quickly." Hoppe says Neame is and has been part of the scheduling discussion: "Of course we consult with our partners. We want everyone to be happy." But, "ultimately, PBS and Masterpiece make the final decision, and we are absolutely in conversation with Gareth."